Welcome to the Posts section of the official Kirk Douglas website. Its purpose is to let Kirk share his thoughts and activities with you, and to enable you to share your thoughts with him.
Below you'll find links to the most recent "Reflections" and "Activities" posts.

Clicking the "Reflections" button to the left, you'll be taken to a page where Kirk, a best-selling writer as well as a movie star, has posted his most recent thoughts and musings.
Clicking the "Activities" button, you'll be taken to a page where you can learn about current and past goings-on in which Kirk is involved.
Clicking the "Kirk Douglas Theatre" button, you'll get the latest news about productions at the theatre, named to honor Kirk Douglas and established as the newest and most intimate of the Center Theatre Group's spaces, which include the Ahmanson and Mark Taper Theatres at the Los Angeles Music Center.
By clicking "Fan Mail," you'll have the opportunity to share your thoughts with Kirk.
Kirk Doulgas's new book, written with his wife Anne, Kirk and Anne: Letters of Love, Laughter, and a Lifetime in Hollywood is now available. This link will enable you to order a copy, and have part of the proceeds go to the work of The Douglas Foundation.
Film legend Kirk Douglas and Anne Buydens, his wife of nearly sixty-three years, look back on a lifetime filled with drama both on and off the screen. Sharing priceless correspondence with each other as well as the celebrities and world leaders they called friends, Kirk and Anne is a candid portrayal of the pleasures and pitfalls of a Hollywood life lived in the public eye.

Compiled from Anne's private archive of letters and photographs, this is an intimate glimpse into the Douglases' courtship and marriage set against the backdrop of Kirk's screen triumphs, including The Vikings, Lust For Life, Paths of Glory, and Spartacus. The letters themselves, as well as Kirk and Anne's vivid descriptions of their experiences, reveal remarkable insight and anecdotes about the legendary figures they knew so well, including Lauren Bacall, Frank Sinatra, Burt Lancaster, Elizabeth Taylor, John Wayne, the Kennedys, and the Reagans. Filled with photos from film sets, private moments, and public events, Kirk and Anne details the adventurous, oftentimes comic, and poignant reality behind the glamour of a Hollywood life-as only a couple of sixty-two years (and counting) could tell it.
Pushing 100! Kirk Douglas Honored Ahead of Milestone Birthday by Michael Douglas, George Clooney at Hollywood Gala
Created on Monday, 03 October 2016
Written by Scot Huver
--People October 2, 2016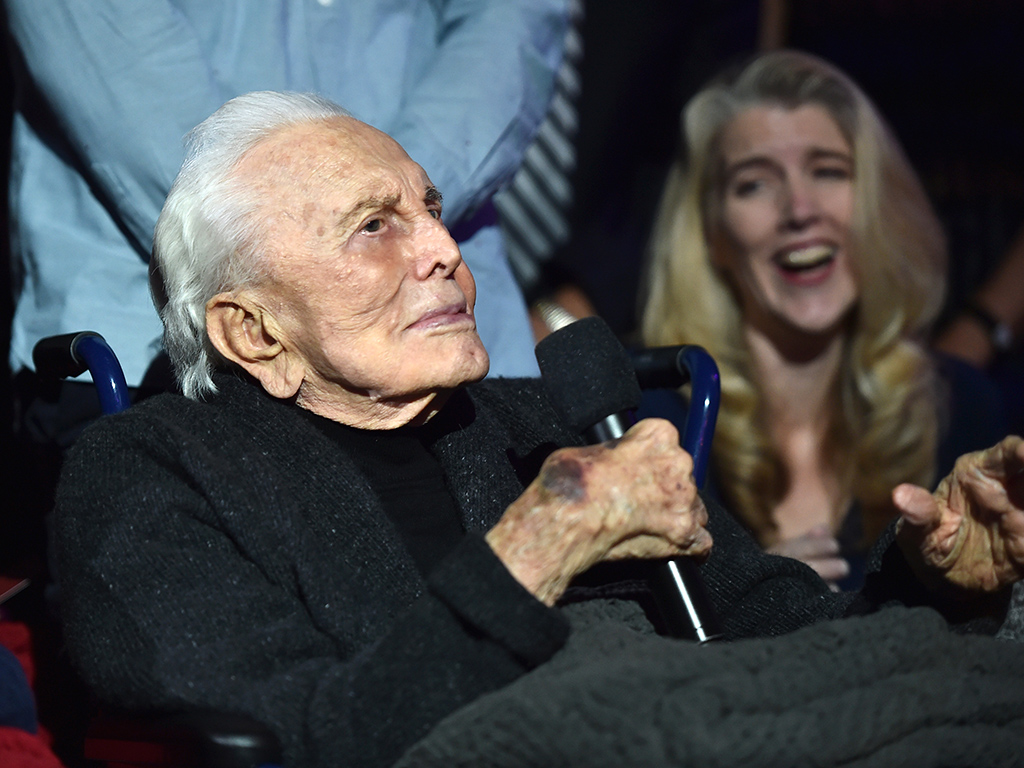 Led by host George Clooney, Hollywood's A-list turned out to celebrate the 95th anniversary of the Motion Picture & Television Fund, the longstanding support system for entertainment industry seniors and industry professionals. But it was an even older showbiz institution who stole the show: soon-to-be-centenarian Kirk Douglas.
Clooney, who with his wife Amal toured the expansive Woodland Hills, California, facility that provides housing, medical care and other assistance programs for aging and ailing members of the show business community earlier in the day, opened the song-and-dance-filled celebration with a nod to both the MPTF and legendary film star Douglas' impressive longevity.
"Wow, 95 years – that's a long time for most of us," said Clooney. "I mean, for Kirk Douglas, not so much. He's not impressed!"
Douglas, who turns 100 on Dec. 9, was on hand for the celebration, sitting stage-side with his wife, Anne, as his son, actor and producer Michael Douglas, took the stage to pay tribute to the couple's renowned charitable generosity.
But first, Michael offered a competitive nod to Clooney.
Noting that his father initially invited him to pen a foreword for his 2012 memoir I Am Spartacus: Making a Film, Breaking the Blacklist, Michael discovered not long after that Kirk had instead chosen someone else: Clooney.
"He replaced me with a younger actor!" exclaimed Michael.
Speaking to attendees who included Robert Downey Jr., Hugh Jackman, Jeremy Renner, Chris Pine, Bryan Cranston, Jane Lynch, Kevin Spacey and Derek Hough, Michael commented on his dad's personal and professional longevity.
"My dad turns 100 years old in a few weeks," he said. "It's an amazing personal century, filled with so many accomplishments and achievements that, if I recounted them all, we'd still be here for Kirk's 105th birthday. My dad is an icon. He's a legend. He's a true movie star from an era when movie stars were looked at as our version of royalty, and Kirk earned that status. Three Oscar nominations, two Golden Globes, over 90 films that spanned seven decades – and not one sequel."
He praised his father's many philanthropic efforts, including donating a surgical robot (nicknamed for his famous film character Spartacus) to the Children's Hospital of Los Angeles, establishing over 400 playground parks for children across Los Angeles, funding minority scholarships at major universities, and donating over $40 million to ambitious programs and centers at the MPTF alone.
A cake made out of strategically tiered cupcakes was brought out as Michael and the audience sang "Happy Birthday" to the screen legend, who took a microphone. And though he still struggled with some speech difficulties – the result of his 1996 stroke – the film icon proved he was still sharp and witty.
He noted that his wife Amal was nearby with some of his old colleagues who were now MPTF residents. "She's over there with some friends that stay here that I worked with 35 years ago, so she's getting the down-low on some old stories!" he said with a laugh.
Other attendees noted their personal connections to MPTF: On stage, Pine revealed his memories of visiting his grandmother, 1940s-era horror film actress and pinup Anne Gwynne, during her twilight years as a resident there, while Cranston shared a warm, hilarious and slightly scandalous story of his mother, actress Audrey Peggy, in her final years at the campus, striking up a passionate – and apparently quite torrid – romance with one of her fellow residents. Spacey, whose mother volunteered there during his youth, recalled caroling there as a child during the holidays and meeting aging stars like The Three Stooges' Larry Fine.
Spacey was among the evening's many performers as well, singing and dancing to Frank Sinatra's "Can I Steal a Little Love?" and Sammy Davis, Jr.'s "Mr. Bojangles." Among the many other one-of-a-kind performances included Jackman singing a medley of songs from "Les Misérables," Derek Hough dancing to tunes from "Singin' In the Rain," Jane Lynch and The Office's" Kate Flannery staging "Mairzy Doats," Johnny Mathis crooning his classic "Misty," and a surprise performance of "You and Me Against the World" by MPTF resident Helen Reddy.
"It's really nice to know that this is here, and it's been 95 years, and let's do 95 more," Lynch told PEOPLE before the event. "I, of course, am thinking I hope it's here for me when I need it."
Actor Kirk Douglas Draws Parallel Between Trump, Hitler in Op-Ed
Created on Monday, 26 September 2016
Written by Menachem Rephun
--JP Updates September 23, 2016
In a Huffington Post op-ed Monday, actor Kirk Douglas drew an analogy between Republican nominee Donald Trump and Nazi dictator Adolf Hitler. The 99 year old actor, known for films such as Spartacus, Paths of Glory, and others, is only a few months shy of his 100th birthday.
"I have always been deeply proud to be an American," Douglas wrote in the piece. "In the time I have left, I pray that will never change. In our democracy, the decision to remain free is ours to make."
Though he refrained from mentioning the GOP nominee by name, Douglas cited a recent speech in which the candidate advocated "ideological" screening tests for immigrants. According to Douglas, Trump's words, "Could have been spoken in 1933."
Whatever one might think about the validity of such parallels, Douglas is not the first to draw them. The candidate has unsettled Holocaust survivors, such Irene Weiss.
In a January article in The Guardian, Weiss, a Czech-born Auschwitz survivor, was quoted as saying she is "exceptionally concerned about demagogues. They touch me in a place that I remember. I know their influence and, unfortunately, I know how receptive audiences are to demagogues and what it leads to."
In the August speech which disturbed Douglas, Trump said it is America's "right as a sovereign nation to choose immigrants that we think are the likeliest to thrive and flourish here…[including] new screening tests for all applicants that include an ideological certification to make sure that those we are admitting to our country share our values…"
"These are not the American values that we fought in WWII to protect," Douglas wrote. The actor observed that Hitler, like Trump, was viewed as clownish and not taken seriously before his rise to power.
"I have lived a long, good life," Douglas wrote. "I will not be here to see the consequences if this evil takes root in our country. But your children and mine will be."
The Road Ahead
Created on Thursday, 22 September 2016
Written by Kirk Douglas
--Huffington Post September 19, 2016
I am in my 100th year. When I was born in 1916 in Amsterdam, New York, Woodrow Wilson was our president.
My parents, who could not speak or write English, were emigrants from Russia. They were part of a wave of more than two million Jews that fled the Czar's murderous pogroms at the beginning of the 20th Century. They sought a better life for their family in a magical country where, they believed, the streets were literally paved with gold.
What they did not realize until after they arrived was that those beautiful words carved into the Statute of Liberty in New York Harbor: "Give me your tired, your poor, your huddled masses, yearning to breathe free," did not apply equally to allnew Americans. Russians, Poles, Italians, Irish and, particularly Catholics and Jews, felt the stigma of being treated as aliens, as foreigners who would never become "real Americans."
They say there is nothing new under the sun. Since I was born, our planet has traveled around it one hundred times. With each orbit, I've watched our country and our world evolve in ways that would have been unimaginable to my parents – and continue to amaze me with each passing year.
In my lifetime, American women won the right to vote, and one is finally the candidate of a major political party. An Irish-American Catholic became president. Perhaps, most incredibly, an African-American is our president today.
The longer I've lived, the less I've been surprised by the inevitability of change, and how I've rejoiced that so many of the changes I've seen have been good.
Yet, I've also lived through the horrors of a Great Depression and two World Wars, the second of which was started by a man who promised that he would restore his country it to its former greatness.
I was 16 when that man came to power in 1933. For almost a decade before his rise he was laughed at ― not taken seriously. He was seen as a buffoon who couldn't possibly deceive an educated, civilized population with his nationalistic, hateful rhetoric.
The "experts" dismissed him as a joke. They were wrong.
A few weeks ago we heard words spoken in Arizona that my wife, Anne, who grew up in Germany, said chilled her to the bone. They could also have been spoken in 1933:
"We also have to be honest about the fact that not everyone who seeks to join our country will be able to successfully assimilate. It is our right as a sovereign nation to choose immigrants that we think are the likeliest to thrive and flourish here…[including] new screening tests for all applicants that include an ideological certification to make sure that those we are admitting to our country share our values…"
These are not the American values that we fought in World War II to protect.
Until now, I believed I had finally seen everything under the sun. But this was the kind of fear-mongering I have never before witnessed from a major U.S. presidential candidate in my lifetime.
I have lived a long, good life. I will not be here to see the consequences if this evil takes root in our country. But your children and mine will be. And their children. And their children's children.
All of us still yearn to remain free. It is what we stand for as a country. I have always been deeply proud to be an American. In the time I have left, I pray that will never change. In our democracy, the decision to remain free is ours to make.
My 100th birthday is exactly one month and one day after the next presidential election. I'd like to celebrate it by blowing out the candles on my cake, then whistling "Happy Days Are Here Again."
As my beloved friend Lauren Bacall once said, "You know how to whistle don't you? You just put your lips together and blow."
Warren Beatty to Be Honored with Kirk Douglas Award by Santa Barbara Film Festival
Created on Wednesday, 21 September 2016
Written by Kristopher Tapley
--Variety September 19, 2016
The Santa Barbara International Film Festival has announced thatWarren Beattywill receive the 11th annual Kirk Douglas Award for Excellence in Film this year.

The honor will be presented at a fundraising dinner on Dec. 1, one week after Beatty's latest film, "Rules Don't Apply," hits theaters on Nov. 23. Proceeds are to support SBIFF's free year-round educational programs.

This year the event coincides with Douglas' 100th birthday, which is Dec. 9. Previous recipients of the award include Jane Fonda, Jessica Lange, Forest Whitaker, Robert De Niro, Michael Douglas, Harrison Ford, Quentin Tarantino, Ed Harris, John Travolta and Douglas himself.

"Warren Beatty upholds the highest artistic standards of the film industry," Douglas said. "His choice of material has entertained us as well as made us think more deeply about the world we live in. I'm delighted he is accepting this recognition of his extraordinary talent."

Set in 1950s Hollywood, "Rules Don't Apply" — Beatty's first film in front of the camera since 2001's "Town & Country" and his first as director since 1998's "Bulworth" — follows the budding romance of a young actress (Lily Collins) and businessman (Alden Ehrenreich), which is forbidden by their employer, Howard Hughes (Beatty). It is set to open AFI Fest on Nov. 10.

The 32nd annual Santa Barbara International Film Festival runs Feb. 1-11, 2017.