Welcome to the Posts section of the official Kirk Douglas website. Its purpose is to let Kirk share his thoughts and activities with you, and to enable you to share your thoughts with him.
Below you'll find links to the most recent "Reflections" and "Activities" posts.

Clicking the "Reflections" button to the left, you'll be taken to a page where Kirk, a best-selling writer as well as a movie star, has posted his most recent thoughts and musings.
Clicking the "Activities" button, you'll be taken to a page where you can learn about current and past goings-on in which Kirk is involved.
Clicking the "Kirk Douglas Theatre" button, you'll get the latest news about productions at the theatre, named to honor Kirk Douglas and established as the newest and most intimate of the Center Theatre Group's spaces, which include the Ahmanson and Mark Taper Theatres at the Los Angeles Music Center.
By clicking "Fan Mail," you'll have the opportunity to share your thoughts with Kirk.
Kirk's most recent book Life Could Be Verse was published December 2, 2014. This link will enable you to get a copy, and have part of the proceeds go to the work of The Douglas Foundation.
Why Kirk and Anne Douglas Are Giving Away Their Fortune
Created on Thursday, 20 August 2015
Written by Scott Feinberg
--Hollywood Reporter August 20, 2015
The iconic actor and his wife of 61 years have amassed an $80 million fortune, and now they are planning to give back to a range of causes, from Children's Hospital Los Angeles and the Anne Douglas Center for Women to their biggest passion, the Motion Picture & Television Fund
Kirk Douglas, 98, has come a long way from his Russian immigrant parents' house near the railroad tracks in Amsterdam, New York. Sitting in his Beverly Hills home with Anne, his wife of 61 years, the legendary actor recalls of his youth, "Sometimes we didn't have enough to eat, but very often there would be a knock at the door and it would be a hobo wanting food, and my mother always gave them something. My mother said to me, 'You must take care of other people.' That stayed with me.'"
Movie stars in Kirk's heyday didn't get paid the kind of money they do today, but Kirk still became a very wealthy man. In 1955, he formed a production company so that he could make movies outside of the studio system — a new concept back then — and Anne took charge of its bookkeeping. (The company's "big moneymakers," she recalls, were 1958's The Vikings and 1960's Spartacus.) "My wife is very smart," says Kirk. "Fifty years ago she set up a trust, and it's been growing ever since. So recently [in 2012] I said, 'How much money do we have in that?' And she said, '$80 million.' I said, 'What?!' Anne recalls Kirk's next remark, 'I want to give it away.' And that's exactly what's happening."

The Douglas' biggest contributions, though, have been to the Motion Picture & Television Fund. In the early 1990s, they raised $2 million to build Harry's Haven (named after Kirk's father), a specialized unit for people suffering from Alzheimer's and related forms of dementia, on the Woodland Hills campus. In 2012, they donated an additional $20 million to the MPTF. Then, a year ago, after learning that Harry's Haven was becoming overcrowded, they pledged an additional $15 million for an expansion. Ground will be broken for the Kirk Douglas Care Pavilion, a new two-floor building attached to Harry's Haven, around the time of Kirk's 99th birthday in December. Anne laughs, "When [MPTF Foundation chairman] Jeffrey Katzenberg comes to say 'Hello,' you say, 'How much?'"
Jane Fonda Wins Santa Barbara Film Festival's Kirk Douglas Award
Created on Wednesday, 12 August 2015
Written by Dave McNary
--Variety August 11, 2015
The Santa Barbara International Film Festival has selected Jane Fonda as the recipient of its 10th annual Kirk Douglas Award for Excellence in Film.
The award will be presented at a gala dinner at Bacara Resort and Spa on Oct. 3. The 31st Santa Barbara festival will open Feb. 3.
"Jane Fonda obviously has the right genes," Douglas said. "Her acting performances set a standard that's hard to follow."
Fonda won Academy Awards for "Klute" and "Coming Home." She has won three Golden Globes, an Emmy and was the 2014 recipient of the AFI Life Achievement Award.
Fonda will next be seen in Fox Searchlight's "Youth," which debuted at Cannes, and also stars Michael Caine, Harvey Keitel, Rachel Weisz and Paul Dano. Fonda also stars in Netflix's "Grace and Frankie," currently filming for its second season.
Past honorees of the Douglas award include Jessica Lange, Forest Whitaker, Robert De Niro, Michael Douglas, Harrison Ford, Quentin Tarantino, Ed Harris and John Travolta.
The Killing of Cecil Reopens a Shameful Memory
Created on Saturday, 08 August 2015
Written by Kirk Douglas
--Huffington Post August 7, 2015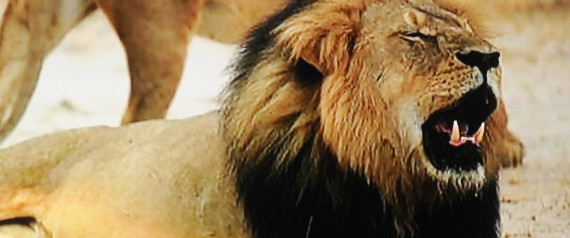 While I, too, mourn the killing of Cecil the Lion in Zimbabwe, it revives in me an uncomfortable memory. Some 50 years ago, I went on my first (and only) wild-game hunt -- the most stupid thing I've ever done. But, at the time, I was gung-ho, buying all the proper paraphernalia, checking guns and racing off into the wilds of Kenya.
Covering my macho derring-do, so I can never fully forget, was a photographer assigned to capture my "heroic" endeavors for a book called Great Hunts. His name was Robert Halmi.
I remember being drunk with power as I softly pulled the trigger of my high-powered rifle and watched a leopard, a gazelle, an oryx, a zebra and other defenseless animals fall to the ground.
The trophies I brought back were proudly mounted on the wall of my projection room. And then one day I looked up and all my trophies seemed to be staring at me. I realized how obscene it was to kill them. I quickly got rid of all the "trophies" and tried to forget the sin that I had committed.
This summer we learned about Dr. Walter Palmer, an American hunter who caused universal outrage for his actions in Zimbabwe. I feel sorry for Dr. Palmer. He is being hunted much like he stalked his prey. His actions were inexcusable and I believe he is certainly paying for them. But he is not alone, many people hunt and kill wild animals for sport. That must be stopped.
Kirk Douglas: I Was Almost on the Plane That Killed Elizabeth Taylor's Husband Mike Todd
Created on Friday, 31 July 2015
Written by Michael Miller
--People July 31, 2015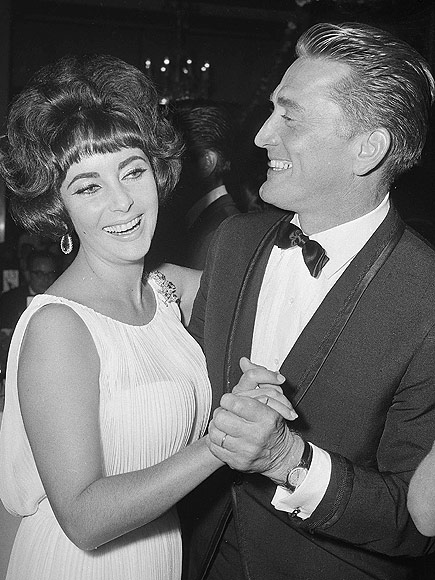 On- and offscreen, Kirk Douglas has always been known as a tough guy.
The athletic former high school wrestler cemented that reputation playing roles like Scrappy Michael "Midge" Kelly in 1949's Champion, and later as the titular role in 1960's Spartacus.
But the 98-year-old legend has also lived through his fair share of real-life scrapes over the years.
In 1991, he narrowly survived a helicopter crash, which killed two people and left him and three others in the hospital. Then several years later, he managed to recover from a severe stroke that threatened to permanently damage his voice in 1996.
After those brushes with death, it's easy to see why Douglas found religion later in life. But in realm of divine intervention, one of his lesser-known escapes from catastrophe trumps all the rest.
Back in 1958, Douglas and his wife Anne were living next door to Elizabeth Taylor and her husband, Academy Award-winning producer Mike Todd, in Palm Springs.
"Mike asked me to go on his private plane with him and we were going to stop and see Harry Truman and then go on to New York," the actor tells PEOPLE, adding, "I was very excited."
Anne Buydens, with whom Douglas has been married for 61 years, had a bad feeling about trip. "When I told my wife [about the plane ride], she said 'I don't want you to go,' " Douglas remembers. "We had a big argument," he says, and sure enough, his wife won out.
Mad at his wife and disappointed about missing the flight, Douglas says he remembers, "We were driving and not talking to each other, so we turned the radio on."
When the radio clicked on, the announcer relayed the shocking news that Mike Todd's private plane, the Lucky Liz (named after Taylor), had crashed, killing everyone on board.
The twin-engine plane was overloaded, and suffered an engine failure while flying in icy conditions at too high of an altitude, the Civil Aeronautics Board later concluded in their accident report.
Douglas wasn't the only celebrity who narrowly escaped the crash. Taylor was also set to fly with her husband that day, but Todd refused to take her along because she was suffering from a high fever.
In a phone call made just hours before his death, the famed producer told a friend, "I just told [Taylor]: 'Dammit, you're staying home with that virus and that's final,' " The Milwaukee Sentinel reported at the time.
Possibly in the same phone call, Todd pleaded with Douglas and another friend to join the flight for a game of gin rummy, insisting that the plane was safe.
"Ah c'mon," he reportedly said, joking, "It's a good, safe plane. I wouldn't let it crash. I'm taking along a picture of Elizabeth, and I wouldn't let anything happen to her."
After hearing of her husband's death, still heavily sedated and in a feverish haze, Taylor repeated over and over again, "I can't believe it's Mike," according to the Sentinel.
When Douglas heard the news, he and Anne immediately pulled their car over to the side of the road.
"Why was I spared? I was so grateful," Douglas tells PEOPLE. "My wife has saved my life many times."
The Spartacus actor also credits his wife with forcing him into intensive speech therapy, when there seemed to be little hope of him regaining his voice after his stroke.
After two months of hard work, Douglas was able to thank the audience for his honorary Academy Award that March. He later recounted his experience recovering from the ordeal in his memoir, My Stroke of Luck.
Douglas has continued his writing, focusing now on his passion for poetry. For his 98th birthday in December 2014, he released Life Could Be Verse, a collection of poetry, prose and photographs he accumulated throughout his extraordinary life.