Welcome to the Posts section of the official Kirk Douglas website. Its purpose is to let Kirk share his thoughts and activities with you, and to enable you to share your thoughts with him.
Below you'll find links to the most recent "Reflections" and "Activities" posts.

Clicking the "Reflections" button to the left, you'll be taken to a page where Kirk, a best-selling writer as well as a movie star, has posted his most recent thoughts and musings.
Clicking the "Activities" button, you'll be taken to a page where you can learn about current and past goings-on in which Kirk is involved.
Clicking the "Kirk Douglas Theatre" button, you'll get the latest news about productions at the theatre, named to honor Kirk Douglas and established as the newest and most intimate of the Center Theatre Group's spaces, which include the Ahmanson and Mark Taper Theatres at the Los Angeles Music Center.
By clicking "Fan Mail," you'll have the opportunity to share your thoughts with Kirk.
Kirk Doulgas's new book, written with his wife Anne, Kirk and Anne: Letters of Love, Laughter, and a Lifetime in Hollywood is now available. This link will enable you to order a copy, and have part of the proceeds go to the work of The Douglas Foundation.
Film legend Kirk Douglas and Anne Buydens, his wife of nearly sixty-three years, look back on a lifetime filled with drama both on and off the screen. Sharing priceless correspondence with each other as well as the celebrities and world leaders they called friends, Kirk and Anne is a candid portrayal of the pleasures and pitfalls of a Hollywood life lived in the public eye.

Compiled from Anne's private archive of letters and photographs, this is an intimate glimpse into the Douglases' courtship and marriage set against the backdrop of Kirk's screen triumphs, including The Vikings, Lust For Life, Paths of Glory, and Spartacus. The letters themselves, as well as Kirk and Anne's vivid descriptions of their experiences, reveal remarkable insight and anecdotes about the legendary figures they knew so well, including Lauren Bacall, Frank Sinatra, Burt Lancaster, Elizabeth Taylor, John Wayne, the Kennedys, and the Reagans. Filled with photos from film sets, private moments, and public events, Kirk and Anne details the adventurous, oftentimes comic, and poignant reality behind the glamour of a Hollywood life-as only a couple of sixty-two years (and counting) could tell it.
UCLA Archive launches Kirk Douglas Centennial Celebration
Created on Thursday, 07 July 2016
Written by Kenneth Turan
by Kenneth Turan, Los Angeles Times, July 7, 2016
This is the year when Kirk Douglas, one of Hollywood's most iconic stars, will celebrate his 100th birthday. To mark the event the UCLA Film & Television Archive has put together a massive series that will run from the beginning of July through the end of September showcasing the range of his films.
The series, screening at the Billy Wilder Theater at the Hammer Museum in Westwood, kicks off this weekend with a trio of Douglas' best-remembered films, starting Friday at 7:30 p.m., with Douglas playing Vincent van Gogh to Anthony Quinn's Paul Gauguin in Vincente Minnelli's rapturous 1956 "Lust For Life."
That's followed on Saturday at 7:30 p.m. with a splendid double bill of two 1951 classics. First comes "Ace In The Hole," directed by Billy Wilder, and starring Douglas as an ambitious reporter (is there any other kind) who is not above exploiting tragedy for his own aims. Also playing is William Wyler's "Detective Story," with Douglas as a police detective whose zeal knows no bounds.
For full series schedule: UCLA Film Archive Kirk Douglas Centennial Celebration

Remembering My Longtime Friend, Nancy Reagan
Created on Tuesday, 15 March 2016
Written by Kirk Douglas
--Huffington Post 3/11/2016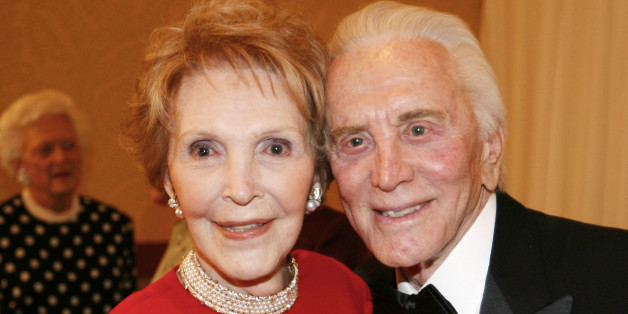 Earlier today, my friend Nancy Reagan joined her husband in their adjoining gravesites at the Reagan Library. United in death as they had been throughout their long and happy marriage, Nancy and ronnie were two film actors who played out their lives on a much more exciting world stage than Hollywood.
I am a registered Democrat, but Anne and I first became close to the Reagans when our children were classmates at the Thomas Dye School. My wife and Nancy were in the same carpool. Ron, Jr. and our son Eric were the kind of pals who played together after school and spent weekends at each other's homes.
One day, Anne got a jolting call from Nancy. She said, "Come pick up this boy at once." We couldn't imagine what Eric had done wrong. Nancy explained. Our son had seen a Goldwater bumper sticker on their family car and yelled "BOO Goldwater" -- a sentiment I confess he picked up from me. She had zero tolerance for such behavior.
Throughout their long friendship, Anne and Nancy had regular lunch dates, a custom that moved from the Bel Air Hotel to 668 St. Cloud this last year. When her dear friend, Merv Griffin, was alive, we would all dine regularly, providing the laughter Nancy so much treasured as the President's Alzheimer's progressed.
Nancy met this challenge as gallantly as she had faced up to his being shot while in office. Shortly after the assassination attempt, I was at the White House for an American Cancer Society ceremony. Nancy asked me to stay and have coffee with her. She knew I had supported Jimmy Carter in her husband's first Presidential campaign, but she was no longer the uncompromising person who had ejected my son from her house.
"How are you coping?" I asked her. Nancy had kept such a brave face before the public. "Oh, Kirk, she replied, "it's something you live with all the time." Far worse, I believe, was watching her beloved husband slip away in the fog of Alzheimer's until eventually he forgot her name. She was very interested in Harry's Haven, the Alzheimer's care unit Anne and I had built at the Motion Picture and Television home in Woodland Hills, California. We had recognized how difficult the disease was for families and tried to provide a warm and inviting atmosphere for their visits.
I was also immensely impressed by her devotion to the Reagan Library and her willingness to take a stand on a controversial issue like stem cell research. Despite the disapproval of many Republican leaders, she lobbied Congress as only an experienced Washington hand with a large bank account of good will could do. I remember her telling us that she had called Merv Griffin while he was receiving an honor in New York to announce, via speaker phone, that the bill had passed.
Among my fondest memories of Nancy are the many wonderful occasions when I got to dance with her. She moved expertly. With her as my partner, I almost felt like Fred Astaire. I know Nancy believed strongly in an afterlife where she would be reunited with Ronnie. I want to believe it's true, if only because that's what I hope for Anne and me. In my imagined paradise, I can envision Nancy in the President's arms, dancing in perfect harmony.