Back to Site
Welcome to the Posts section of the official Kirk Douglas website. Its purpose is to let Kirk share his thoughts and activities with you, and to enable you to share your thoughts with him.
Below you'll find links to the most recent "Reflections" and "Activities" posts.

Clicking the "Reflections" button to the left, you'll be taken to a page where Kirk, a best-selling writer as well as a movie star, has posted his most recent thoughts and musings.
Clicking the "Activities" button, you'll be taken to a page where you can learn about current and past goings-on in which Kirk is involved.
Clicking the "Kirk Douglas Theatre" button, you'll get the latest news about productions at the theatre, named to honor Kirk Douglas and established as the newest and most intimate of the Center Theatre Group's spaces, which include the Ahmanson and Mark Taper Theatres at the Los Angeles Music Center.
By clicking "Fan Mail," you'll have the opportunity to share your thoughts with Kirk.
Kirk's most recent book Life Could Be Verse was published December 2, 2014. This link will enable you to get a copy, and have part of the proceeds go to the work of The Douglas Foundation.
Kirk Douglas honored on the House floor for his 99th birthday
Created on Friday, December 18th, 2015
Written by Oliver Gettell
--Entertainment Weekly December 16, 2015
The iconic actor Kirk Douglas, who celebrated his 99th birthday Dec. 9, was honored on the floor of the House of Representatives on Tuesday.
In a brief address, Rep. Steve Cohen (D-Tenn.) called Douglas a "great American" and said he had "a long history of charitable giving and philanthropy." Most recently, Douglas donated $15 million to an Alzheimer's care facility in Los Angeles.
Cohen also said the recent film Trumbo, about Spartacus screenwriter Dalton Trumbo, enlightened him about Douglas' role in challenging the Hollywood blacklist in the 1950s.
Kirk Douglas Just Did Something Beautiful For His 99th Birthday
Created on Thursday, December 17th, 2015
Written by Yagana Shah
--Huffington Post December 16, 2015
They say it's better to give than receive, and that's exactly what actor Kirk Douglas did to celebrate his 99th birthday. The Hollywood veteran marked his birthday with a $15 million donation to the Motion Picture and Television Fund to help create a state-of-the-art care facility for Alzheimer's patients.
MPTF says the building will be named the Kirk Douglas Care Pavilion and they plan to begin work on it in 2016. "It is in keeping with Kirk's philosophy of giving back to the entertainment community that he is the one giving us the gift on his birthday instead of us lavishing one on him," MPTF chairman Jeffrey Katzenberg said in a statement. He added that Douglas and his wife, Anne, are among the largest donors in the history of the foundation with over $40 million in giving.
In 1992, Kirk and Anne Douglas helped fund "Harry's Haven," a special care unit at the Woodland Hills, California campus to care for Alzheimer's and dementia sufferers from the entertainment industry. It was named as a tribute to Douglas' father, Harry.
"When Jeffrey Katzenberg explained the urgency of enlarging the current facility to accommodate more patients, we had to say yes! Jeffrey knows it is our philosophy to provide funding where it is needed most. The Kirk Douglas Care Pavilion is going to help a lot of families in our community," Kirk Douglas said in a statement.
Within the entertainment industry, several people have stepped forward and shared their battle with memory-robbing diseases. Country music legend Glenn Campbell was diagnosed with Alzheimer's four years ago and now lives full-time at a memory care facility. Former president Ronald Reagan announced in 1994 that he had been diagnosed with Alzheimer's disease, which he battled until his death in 2004.
We wish Kirk many happy returns of the day and can't think of a more beautiful way to celebrate a birthday.
Kirk Douglas Turns 99 With A Party And A $15 Million Birthday Gift
Created on Wednesday, December 16th, 2015
Written by Pete Hammond
--Deadline Hollywood December 11, 2015
Kirk Douglas celebrated his 99th birthday on Wednesday at his home in Beverly Hills with wife Anne and sons Michael, Peter, Joel and daughter-in-law Catherine Zeta-Jones as he held court under a huge banner made of red and white roses that spelled out "99 Today". On the dining room table was a large rectangular birthday cake. Earlier in the day the legendary star reversed the usual protocol and instead of receiving a gift he decided instead to give one, a BIG one.
With his initial donation of $15 million, the Motion Picture & Television Fund in Woodland Hills announced plans to build a two-story $35 million Alzheimer's facility to be named the Kirk Douglas Care Pavilion, which will be able to take care of upwards of 80 industry members with that disease. It is expected to break ground in late 2016. "It is in keeping with Kirk's philosophy of giving back to the entertainment community that he is the one giving us the gift on his birthday instead of us lavishing one on him," said Jeffrey Katzenberg, chairman of the MPTF Foundation, who adds that with this most recent commitment Kirk and his wife, Anne Douglas are some of the largest donors in the history of MPTF with over $40 million to date. In fact, in 1992 they helped create the Alzheimer's Unit at MPTF known as Harry's Haven which was named for Douglas' father. Harry's Haven will now become the first floor of the new facility. "When Jeffrey Katzenberg explained the urgency of enlarging the current facility to accommodate more patients, we had to say yes. Jeffrey knows it is our philosophy to provide funding where it is needed most. The Kirk Douglas Care Pavilion is going to help a lot of families in our community," Douglas said in a statement.
But back to the party. Son Michael made a speech about his dad, remarking how many people want to talk to him about Kirk's essays in the Huffington Post, his books and their favorite of his films. To which Kirk responded, "My son Michael is here, which just proves if you have enough money, you can have Michael Douglas speak at any event." Among those stopping by to visit the actor was Katzenberg, who brought along a large 3-dimensional model of the new Kirk Douglas Care Pavilion that sat in the hall tied with a large ribbon. Universal chief Ron Meyer was there, with Douglas asking him how Kirk Douglas Way, the street named after him at U, was doing on the lot. He told Meyer he plans to put a Kosher Deli in as soon as he finds time. Longtime friend Don Rickles came in, made his way straight to Kirk and said, "I'm not staying," a line that got a big laugh from Douglas. Laugh-In producer George Schlatter was there, already making plans with Anne for what they can do for Kirk's 100th which takes place on December 9, 2016.
According to my spy on the scene, Kirk slipped out of his party after about an hour without saying goodbye. "All of his good friends and family know that he only likes hellos," she said.
Coincidentally, Douglas shares the exact same birthday, December 9, as Dalton Trumbo (who would have been 110). Of course, Douglas figures heavily in the new movie Trumbo, since he was instrumental in breaking the Hollywood Blacklist by putting Trumbo's name as screenwriter on the credits of Spartacus in 1960. All of this is recounted in the film, which ironically led all others on Douglas' and Trumbo's shared birthday in the SAG awards nominations Wednesday. It earned three, for Bryan Cranston who plays Trumbo, Helen Mirren who plays Hedda Hopper and for Outstanding Cast (which includes actor Dean O'Gorman who makes an uncanny Douglas). The film also earned a pair of Golden Globe nominations yesterday. Cranston and Trumbo director Jay Roach came by to visit Douglas for drinks and an early celebration on Sunday with a birthday cake.
Kirk Douglas donates $15 million toward new care center in Woodland Hills
Created on Friday, December 11th, 2015
Written by Susan Abram
--Los Angeles Daily News December 10, 2015
A $35 million care center to be named after screen legend Kirk Douglas will be built at the Motion Picture Television Fund campus in Woodland Hills to help Hollywood industry members struggling with Alzheimer's disease, officials announced Wednesday.
Construction on the two story Kirk Douglas Care Pavilion will begin next year and will include a garden for 80 industry members struggling with Alzheimer's as well as those with long-term skilled nursing care needs.
Douglas, who turned 99 on Wednesday, and his wife have donated $15 million toward the project.
"We are grateful to Kirk and Anne for making this leadership gift of $15 million," said Jeffrey Katzenberg, Chairman of the MPTF Foundation in a statement. "It will kick the design and planning of this incredible new facility into high gear."
Douglas wanted to formally donate the funds on his birthday, Katzenberg said.
"With their recent commitment to MPTF, Kirk and Anne Douglas are some of the largest donors in the history of MPTF giving, with over $40 million of lifetime philanthropy," Katzenberg said. "We will never be able to thank them enough for all that they have done."
The pavilion will allow the Motion Picture Television Fund to expand its services and will house Harry's Haven, an Alzheimer's unit that was created by the Douglas family in 1992.
"Kirk was visionary when in 1992 he recognized the implications of dealing with Alzheimer's not only for those directly impacted but for their family members as well," Bob Beitcher, MPTF President and CEO, said in a statement. "MPTF is honored to be a part of the legacy of caring for our own that Kirk Douglas embodies by his words and his actions."
The nonprofit Motion Picture & Television Fund was founded in 1921 by movie pioneers Charlie Chaplin, Mary Pickford, Douglas Fairbanks and D.W. Griffith. The intention was to provide services to members and family within the film industry. The group has operated several outpatient health centers throughout greater Los Angeles, a children's center, a retirement community and health plans.
In a statement, Douglas said he and his wife Anne created Harry's Haven because they wanted to help families in the entertainment community struggling to care for their loved ones with Alzheimer's.
"What MPTF has done at Harry's Haven over the past 25 years never ceases to amaze me," Douglas said in the statement. "We wanted visitors as well as patients to experience a warm and loving environment, and MPTF has fulfilled our wishes admirably.
"When Jeffrey Katzenberg explained the urgency of enlarging the current facility to accommodate more patients, we had to say yes! Jeffrey knows it is our philosophy to provide funding where it is needed most. The Kirk Douglas Care Pavilion is going to help a lot of families in our community."
Kirk Douglas Turns 99! See Son Michael Douglas's Sweet Facebook Post
Created on Thursday, December 10th, 2015
Written by Lindsay Kible
--People December 9, 2015
Storied film actor Kirk Douglas celebrated his 99th birthday on Wednesday, and he marked the occasion with sweet well-wishes from his son.
Michael Douglas shared a red carpet photo with the legendary Spartacus star on Facebook in honor of his father's big day.
In the image, Michael, 71, gives his father a sweet forehead kiss.
"Happy 99th Birthday Dad," Michael wrote. "I love you."
Michael has previously praised his father's illustrious career, while thanking him for letting him forge his own path in the industry.
Although Kirk has clearly lived a long life, the Honorary Academy Award winner recently told PEOPLE about how he nearly was a passenger on Elizabeth Taylor's husband's private plane, which crashed and killed everyone aboard in 1958.
The actor's longtime wife, Anne Buydens, wouldn't let Kirk join on the plane ride – and thankfully so, as the Lucky Liz suffered engine failure,
"Why was I spared? I was so grateful," Kirk told PEOPLE. "My wife has saved my life many times."
Kirk Douglas Reviews 'Trumbo'
Created on Friday, November 20th, 2015
Written by Andrea Mandell
--USA Today November 20, 2015
BEVERLY HILLS, Calif. — How odd to watch history replayed on the big screen when it's your own.
That's where Kirk Douglas, 98, found himself when recently viewing Trumbo (in select theaters; opens nationwide Nov. 25), a new biopic of Academy Award-winning screenwriter Dalton Trumbo (played by Bryan Cranston), who was forced to work under a pen name for more than a decade during the McCarthy years when he, along with hundreds of others, was blacklisted as a communist sympathizer.
Douglas' Spartacus plays a key role in the film: It was the first major movie to break the blacklist by putting Trumbo's real name back on the big screen in the credits in 1960. (Exodus, also written by Trumbo, followed suit shortly after.)
Douglas sits in a cardigan and slacks in his sun-drenched living room. "You know, I did a lot of movies with Dalton," he says in good spirits though he speaks slowly (his speech has been impaired since a stroke at age 80). "They were all good." (His favorite is 1962's Lonely Are the Brave.)
An original copy of Trumbo's National Book Award-winning Johnny Got His Gun has been pulled from Douglas' shelf. The author sent it to Douglas as a token of gratitude after the actor pledged to use Trumbo's real name on Spartacus.
The June 1959 inscription reads:
"Dear Kirk,
Here, for what it is and for what I hope I still am, is the only existing copy of this book that's signed with the name to which I was born — and that other name you've enabled me to acquire under circumstances that blessedly permit me to respect and cherish both the new name and the new friend who made it possible.
Affectionately, Sam Jackson/Dalton Trumbo."
In Trumbo, Dean O'Gorman (a startling Douglas lookalike) plays the screen legend. O'Gorman wrote Douglas a letter last September seeking advice.
Douglas' shares his response to the 38-year-old actor seen in The Hobbit franchise (as the dwarf Fili).
It's amusingly spare. "Playing Kirk Douglas, forget him ... just play the part and you will be fine," he wrote.
In his book I Am Spartacus! Making A Film, Breaking the Blacklist, Douglas details how he waited for a majority of the film to be shot as leverage to push Universal to allow Dalton's real name on screen.
"What I never understood, you know, a guy should be able to write something and be paid," Douglas says, pointing out that even President Kennedy supported Spartacus by crossing picket lines to see it.
In the book, Douglas wrote, "When I hired Dalton Trumbo to write Spartacus under the pseudonym Sam Jackson, we all had been employing the blacklisted writers. It was an open secret and an act of hypocrisy, as well as a way to get the best talent at bargain prices. I hated being part of such a system."
Douglas describes Trumbo as an egoless writer who wasn't precious about his work. And Trumbo was fast. "Dalton Trumbo, if you told him, 'I don't like that scene' — 'You don't like it?' " (Douglas mimics the screenwriter crumpling up a paper and tossing it.)
Trumbo's many eccentricities are displayed in the film, aided by Cranston's portrayal, which Douglas praises. "Trumbo was a strange guy," says Douglas, happy that a parrot (nicknamed Sammy) he gifted the writer made the film.
The bird, Douglas recalls, used to sit on Trumbo's shoulder while he worked in the tub, where the prolific writer often held meetings. "He was a nut," Douglas says.
Douglas' overall impression of Trumbo? "It's a very good film," he says, "and its spirit is true to the man I admired."
A centennial year of celebration is in store for the three-time best actor nominee. "I'm going to be 99 years old (on Dec. 9). I don't like it," says Douglas who is working on a new book of letters from his life.
How does he feel? Douglas smiles and squints. "I think I'll make another picture."
Why I Felt Like a Failure When I Didn't Make It on Broadway
Created on Friday, November 6th, 2015
Written by Kirk Douglas
--Huffington Post November 5, 2015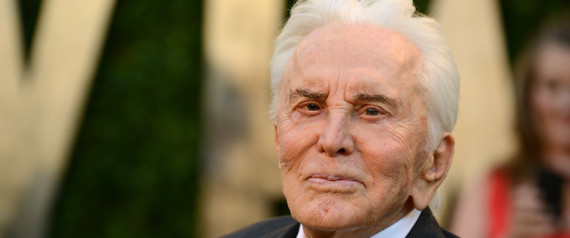 In 1963, I made my last stab at being a hit on Broadway. I bought the rights to Ken Kesey's book, One Flew Over the Cuckoo's Nest. It was a first novel, not yet the bestseller it would eventually become. I was crazy about the book -- maybe not the best phrase to use given the subject matter.
I hired Dale Wasserman to write the play. Dale wrote the first draft of my film,The Vikings; but, like me, his first love was theatre. Later, he wrote Man of La Mancha. That was a huge hit, much more successful than the movie. Cuckoo's Nest on Broadway was not the smash I anticipated after receiving rave reviews in New Haven. I did, however, keep it running for six months. On the other hand, the film version won a number of Oscars -- for Jack Nicholson, for Louise Fletcher, and for a young producer named Michael Douglas.
I wanted to be an actor since I stepped in front of an audience to recite "The Red Robin of Spring" when I was in kindergarten. Something happened when I heard applause. I loved it. I still do.
In high school and St. Lawrence University, I won drama awards which further fueled my theatrical ambitions. Getting a scholarship to the American Academy of Dramatic Arts in Manhattan was a dream come true.
I had talent, my teachers said, but -- more important -- I had chutzpah. That quality alone got me admitted to St. Lawrence, after talking my way into the Dean's office, showing him my dossier of high school honors, and announcing I had $164 I could put toward tuition. It got me into my first play, Spring Again, singing a telegram to the tune of "Yankee Doodle Dandy." It was produced by Katherine Cornell and her husband Guthrie McClintock, the first couple of Broadway. That Thanksgiving I was invited to their house and drank champagne and ate caviar. The Thanksgiving before, I was in line at the Salvation Army for my free turkey meal.
I wish I could say that was the beginning of an auspicious theatrical career, with my name ablaze on a prestigious marquee, but it wasn't. After I was honorably discharged from the Navy, it was back to small parts in plays that flopped. Then I got a big break! George Abbott invited me to audition before Leonard Bernstein, Betty Comden and Adolph Green for On the Town. I sang a corny old music hall song, I'm "Red Hot Henry Brown (the hottest man in town)", and got the part, later played by Gene Kelly in the movie. I was petrified and came down with a psychosomatic illness -- my voice got smaller and smaller as I rehearsed the songs, until it totally disappeared. And so did my big opportunity. John Battles replaced me, and my voice came back.
Finally, in June 1945, I played the Unknown Soldier of World War I in The Wind Is Ninety and got my first good reviews. The Hollywood producer Hal Wallis came to see it, urged by my friend Betty Bacall, who made such a sensation as Lauren Bacall in her 1944 screen debut, To Have and Have Not. And that's how I found myself on a train headed to Hollywood to play Barbara Stanwyck's weak drunkard husband in The Strange Love of Martha Ivers. I was on my way to becoming a movie star -- only because I hadn't become a star on the Great White Way.
Here's why I felt like a failure: On the stage, I am flesh and blood, not a shadow on the screen. The eye of the movie camera is an evil eye. When you act in front of it, that cyclops keeps taking from you until you feel empty. On the stage, you give something to the audience, more comes back. When the curtain comes down in a theatre, you have a feeling of exhilaration -- something's been completed, fulfilled. It's so different from an exhausting day of shooting at the studio. You come home tired, drained. Making a movie is like making a mosaic -- laboriously putting little pieces together, jumping from one part of the picture to another, never seeing the whole, whereas in a play, the momentum of the continuity works with you, takes you along. Doing a play is like dancing to music. Making a movie is like dancing in wet cement.
I finally found out how to get my my name in lights -- permanently. Buy the theatre! Eleven years ago, the Kirk Douglas Theatre in Culver City opened in a remodelled Art Deco movie house that had played my first films. It is part of the award-winning Center Theatre Group (CTG) which includes the Mark Taper Forum and the Dorothy Chandler Pavilion at the downtown Music Center. A few productions that originated in "my theatre" have gone on from there to Broadway stardom.
I even got to star on its stage at the age of 92 in my autobiographical one-man show, Before I Forget. I loved doing it. For a second I flirted with bringing it to Broadway, but nonagenarian solo acts don't inspire long-range ticket sales.
But at least I went out a hit!