Back to Site
Welcome to the Posts section of the official Kirk Douglas website. Its purpose is to let Kirk share his thoughts and activities with you, and to enable you to share your thoughts with him.
Below you'll find links to the most recent "Reflections" and "Activities" posts.

Clicking the "Reflections" button to the left, you'll be taken to a page where Kirk, a best-selling writer as well as a movie star, has posted his most recent thoughts and musings.
Clicking the "Activities" button, you'll be taken to a page where you can learn about current and past goings-on in which Kirk is involved.
Clicking the "Kirk Douglas Theatre" button, you'll get the latest news about productions at the theatre, named to honor Kirk Douglas and established as the newest and most intimate of the Center Theatre Group's spaces, which include the Ahmanson and Mark Taper Theatres at the Los Angeles Music Center.
By clicking "Fan Mail," you'll have the opportunity to share your thoughts with Kirk.
Kirk's most recent book Life Could Be Verse was published December 2, 2014. This link will enable you to get a copy, and have part of the proceeds go to the work of The Douglas Foundation.
Kirk Douglas Reviews 'Trumbo'
Created on Friday, November 20th, 2015
Written by Andrea Mandell
--USA Today November 20, 2015
BEVERLY HILLS, Calif. — How odd to watch history replayed on the big screen when it's your own.
That's where Kirk Douglas, 98, found himself when recently viewing Trumbo (in select theaters; opens nationwide Nov. 25), a new biopic of Academy Award-winning screenwriter Dalton Trumbo (played by Bryan Cranston), who was forced to work under a pen name for more than a decade during the McCarthy years when he, along with hundreds of others, was blacklisted as a communist sympathizer.
Douglas' Spartacus plays a key role in the film: It was the first major movie to break the blacklist by putting Trumbo's real name back on the big screen in the credits in 1960. (Exodus, also written by Trumbo, followed suit shortly after.)
Douglas sits in a cardigan and slacks in his sun-drenched living room. "You know, I did a lot of movies with Dalton," he says in good spirits though he speaks slowly (his speech has been impaired since a stroke at age 80). "They were all good." (His favorite is 1962's Lonely Are the Brave.)
An original copy of Trumbo's National Book Award-winning Johnny Got His Gun has been pulled from Douglas' shelf. The author sent it to Douglas as a token of gratitude after the actor pledged to use Trumbo's real name on Spartacus.
The June 1959 inscription reads:
"Dear Kirk,
Here, for what it is and for what I hope I still am, is the only existing copy of this book that's signed with the name to which I was born — and that other name you've enabled me to acquire under circumstances that blessedly permit me to respect and cherish both the new name and the new friend who made it possible.
Affectionately, Sam Jackson/Dalton Trumbo."
In Trumbo, Dean O'Gorman (a startling Douglas lookalike) plays the screen legend. O'Gorman wrote Douglas a letter last September seeking advice.
Douglas' shares his response to the 38-year-old actor seen in The Hobbit franchise (as the dwarf Fili).
It's amusingly spare. "Playing Kirk Douglas, forget him ... just play the part and you will be fine," he wrote.
In his book I Am Spartacus! Making A Film, Breaking the Blacklist, Douglas details how he waited for a majority of the film to be shot as leverage to push Universal to allow Dalton's real name on screen.
"What I never understood, you know, a guy should be able to write something and be paid," Douglas says, pointing out that even President Kennedy supported Spartacus by crossing picket lines to see it.
In the book, Douglas wrote, "When I hired Dalton Trumbo to write Spartacus under the pseudonym Sam Jackson, we all had been employing the blacklisted writers. It was an open secret and an act of hypocrisy, as well as a way to get the best talent at bargain prices. I hated being part of such a system."
Douglas describes Trumbo as an egoless writer who wasn't precious about his work. And Trumbo was fast. "Dalton Trumbo, if you told him, 'I don't like that scene' — 'You don't like it?' " (Douglas mimics the screenwriter crumpling up a paper and tossing it.)
Trumbo's many eccentricities are displayed in the film, aided by Cranston's portrayal, which Douglas praises. "Trumbo was a strange guy," says Douglas, happy that a parrot (nicknamed Sammy) he gifted the writer made the film.
The bird, Douglas recalls, used to sit on Trumbo's shoulder while he worked in the tub, where the prolific writer often held meetings. "He was a nut," Douglas says.
Douglas' overall impression of Trumbo? "It's a very good film," he says, "and its spirit is true to the man I admired."
A centennial year of celebration is in store for the three-time best actor nominee. "I'm going to be 99 years old (on Dec. 9). I don't like it," says Douglas who is working on a new book of letters from his life.
How does he feel? Douglas smiles and squints. "I think I'll make another picture."
Why I Felt Like a Failure When I Didn't Make It on Broadway
Created on Friday, November 6th, 2015
Written by Kirk Douglas
--Huffington Post November 5, 2015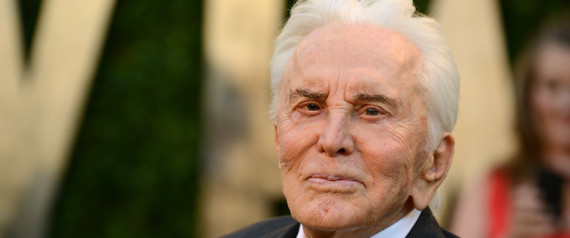 In 1963, I made my last stab at being a hit on Broadway. I bought the rights to Ken Kesey's book, One Flew Over the Cuckoo's Nest. It was a first novel, not yet the bestseller it would eventually become. I was crazy about the book -- maybe not the best phrase to use given the subject matter.
I hired Dale Wasserman to write the play. Dale wrote the first draft of my film,The Vikings; but, like me, his first love was theatre. Later, he wrote Man of La Mancha. That was a huge hit, much more successful than the movie. Cuckoo's Nest on Broadway was not the smash I anticipated after receiving rave reviews in New Haven. I did, however, keep it running for six months. On the other hand, the film version won a number of Oscars -- for Jack Nicholson, for Louise Fletcher, and for a young producer named Michael Douglas.
I wanted to be an actor since I stepped in front of an audience to recite "The Red Robin of Spring" when I was in kindergarten. Something happened when I heard applause. I loved it. I still do.
In high school and St. Lawrence University, I won drama awards which further fueled my theatrical ambitions. Getting a scholarship to the American Academy of Dramatic Arts in Manhattan was a dream come true.
I had talent, my teachers said, but -- more important -- I had chutzpah. That quality alone got me admitted to St. Lawrence, after talking my way into the Dean's office, showing him my dossier of high school honors, and announcing I had $164 I could put toward tuition. It got me into my first play, Spring Again, singing a telegram to the tune of "Yankee Doodle Dandy." It was produced by Katherine Cornell and her husband Guthrie McClintock, the first couple of Broadway. That Thanksgiving I was invited to their house and drank champagne and ate caviar. The Thanksgiving before, I was in line at the Salvation Army for my free turkey meal.
I wish I could say that was the beginning of an auspicious theatrical career, with my name ablaze on a prestigious marquee, but it wasn't. After I was honorably discharged from the Navy, it was back to small parts in plays that flopped. Then I got a big break! George Abbott invited me to audition before Leonard Bernstein, Betty Comden and Adolph Green for On the Town. I sang a corny old music hall song, I'm "Red Hot Henry Brown (the hottest man in town)", and got the part, later played by Gene Kelly in the movie. I was petrified and came down with a psychosomatic illness -- my voice got smaller and smaller as I rehearsed the songs, until it totally disappeared. And so did my big opportunity. John Battles replaced me, and my voice came back.
Finally, in June 1945, I played the Unknown Soldier of World War I in The Wind Is Ninety and got my first good reviews. The Hollywood producer Hal Wallis came to see it, urged by my friend Betty Bacall, who made such a sensation as Lauren Bacall in her 1944 screen debut, To Have and Have Not. And that's how I found myself on a train headed to Hollywood to play Barbara Stanwyck's weak drunkard husband in The Strange Love of Martha Ivers. I was on my way to becoming a movie star -- only because I hadn't become a star on the Great White Way.
Here's why I felt like a failure: On the stage, I am flesh and blood, not a shadow on the screen. The eye of the movie camera is an evil eye. When you act in front of it, that cyclops keeps taking from you until you feel empty. On the stage, you give something to the audience, more comes back. When the curtain comes down in a theatre, you have a feeling of exhilaration -- something's been completed, fulfilled. It's so different from an exhausting day of shooting at the studio. You come home tired, drained. Making a movie is like making a mosaic -- laboriously putting little pieces together, jumping from one part of the picture to another, never seeing the whole, whereas in a play, the momentum of the continuity works with you, takes you along. Doing a play is like dancing to music. Making a movie is like dancing in wet cement.
I finally found out how to get my my name in lights -- permanently. Buy the theatre! Eleven years ago, the Kirk Douglas Theatre in Culver City opened in a remodelled Art Deco movie house that had played my first films. It is part of the award-winning Center Theatre Group (CTG) which includes the Mark Taper Forum and the Dorothy Chandler Pavilion at the downtown Music Center. A few productions that originated in "my theatre" have gone on from there to Broadway stardom.
I even got to star on its stage at the age of 92 in my autobiographical one-man show, Before I Forget. I loved doing it. For a second I flirted with bringing it to Broadway, but nonagenarian solo acts don't inspire long-range ticket sales.
But at least I went out a hit!
'Trumbo' gets Kirk Douglas' stamp of approval
Created on Friday, November 6th, 2015
Written by Ian Mohr
--pagesix.com November 5, 2015
Bryan Cranston personally delivered a copy of his new film "Trumbo" — in which he stars as the titular blacklisted screenwriter — to show Kirk Douglas, 98, at the icon's home.
Years ago, Douglas hired Dalton Trumbo to pen his 1960 hit "Spartacus" after Trumbo was banned from Hollywood for a decade and wrote a 1956 Oscar-winner, "The Brave One," under a pseudonym.
"Cranston brought the film to Kirk's house," said a source. "They started at 3 p.m., took a break for dinner, then watched the rest. Kirk loved it. He gave Bryan a big hug, but wondered why [director] Jay Roach didn't cast him to play himself."
Michael Douglas has been telling pals that when his dad hits 99 next month, they'll start a yearlong centennial celebration.
'Trumbo's' Dean O'Gorman plays Kirk Douglas and earns praise from the legend
Created on Friday, October 30th, 2015
Written by Susan King
--Los Angeles Times October 30, 2015
When Dean O'Gorman was cast in the plum role of Kirk Douglas in "Trumbo," the new biopic about blacklisted screenwriter Dalton Trumbo, he decided to ask the legendary actor if he wouldn't mind offering up a few tips on how to play him.
"I wrote him a letter," said O'Gorman, 38, by phone from his home outside of Auckland, New Zealand.
And Douglas, now 98, wrote him back. "He was very nice," said O'Gorman, best known as the dwarf Fili in Peter Jackson's "The Hobbit" trilogy. "He said, 'Don't worry about being me too much, just play the role, play the scene." I thought it was a great answer. I think it was Kirk Douglas' way of saying no one but me is me."
When Douglas enters Trumbo's (Bryan Cranston) life in the late 1950s, the screenwriter had long been forced to churn out screenplays under various pseudonyms. As a young actor and producer, Douglas hired the writer to adapt Howard Fast's novel "Spartacus," the 1960 epic he was producing and starring in as a Roman slave who leads a revolt. Despite threats that publicly using Trumbo would ruin his career, Douglas insisted he get screen credit on the film directed by Stanley Kubrick, helping to break the lengthy blacklist against Trumbo and other writers.
Douglas, said O'Gorman, has admitted that had he been older at the time he may have been more hesitant to use Trumbo's real name in the credits. But being so young, O'Gorman added, he was a little more headstrong. "One thing he has said is that he hated being told what to do. He was really inspired by the injustice of it. He could have lost a lot, and he was really nervous about the outcome of it."
O'Gorman had long been a fan of Douglas. "I read his autobiography, 'The Ragman's Son,' when I was a teenager," he said. "I always thought he was a fascinating force of nature."
Though he was aware of the Hollywood blacklist, O'Gorman didn't know the full story until he began work on the film. "It was quite shocking to find out these people who were deemed to be a threat to the nation were — only two years prior — sort of being revered as these incredible artists. And they were pushed aside."
O'Gorman, who looks strikingly like the young Douglas, heeded the advice of the veteran actor and "Trumbo" director Jay Roach not to do an impression. So there is no muscular posturing or "I'm KIRK DOUGLAS!" proclamations.
In an email interview, Roach noted, "Dean's interpretation of Mr. Douglas required more overlap of Dean's own heart and soul with the essence of Kirk Douglas. If Dean had tried to mimic Douglas, the iconic mask might have gone more opaque. What Dean did is much more like channeling Douglas through his own face and body."
One of the most difficult aspects of playing Douglas was having to wear the form-fitting "Spartacus" duds. "It took a while to get used to wearing little leather undies," O'Gorman said with a laugh.
Douglas, noted Roach, has seen "Trumbo" and went out of his way to compliment O'Gorman's performance. "He said the only guy who could have done better at playing Kirk than Dean was ... Kirk himself," said Roach. "Douglas said he was upset we didn't ask him!"
L.A. Mission gets another $5M from Kirk and Anne Douglas
Created on Friday, October 23rd, 2015
Written by mynewsla.com
--October 22, 2015
Actor Kirk Douglas and his wife, Anne, pledged another $5 million to the Los Angeles Mission's women's center, boosting their support of the mission to $15 million over the last three years, officials said Thursday.
"Anne and Kirk Douglas are the gold standard for giving to the mission and our L.A. community," Los Angeles Mission President Herb Smith said. "They are doers and role models of service for us all. They have been very involved in every aspect of the Anne Douglas Center and the center's substantial work to help desperate women who are out of options."
Anne Douglas announced the donation during the mission's Legacy of Vision Gala Tuesday night.
"We always say, 'Caring is sharing,'" Anne Douglas said. "You really only own what you give away. It sounds like a contradiction, but it really is true. Our joy comes from what we have given away. To see women's lives turned completely around means everything to us."
Jane Fonda Ponders Art's Impact on Youth at Santa Barbara Fete
Created on Sunday, October 4th, 2015
Written by Kristopher Tapley
--Variety October 3, 2015

GOLETA, Calif. — Two-time Oscar winning actress Jane Fonda kept the focus on social concerns in accepting a career achievement honor presented by the Santa Barbara International Film Festival Saturday night.
The 10th annual Kirk Douglas Award for Excellence in Film in hand, Fonda took a moment to recognize the programs that benefit from the annual fundraising dinner (which has honored luminaries such as Jessica Lange, Forest Whitaker, Robert De Niro, Michael Douglas and Harrison Ford in recent years). She recalled formerly running a local performing arts camp herself for underprivileged children. It was there she said she discovered the impact art can have on youth, when one of the children there confessed she had never met people who think about the future. "When you're poor or not loved, you see no future," Fonda recalled understanding.
She also added with a twist that the camp was powered by alternative energies. "This was the end of the 70s," she boasted. "So don't let anyone tell you we don't have the technology."
Programs supported by the Gala include Mike's Field Trip to the Movies, the 10-10-10 Mentorship program and competitions, the Film Studios Program, Apple Box Family Films and a new Film Camp initiative to be launched this summer.
Fonda admitted to having some difficulty watching her career fly by in a series of clip packages. "I'm 78 and I still feel like a student," she said. "[I see this and think,] 'I can do it better.'"
Nevertheless, it's an impressive portfolio, one that builds to an explosive if fleeting performance in Paolo Sorrentino's "Youth." Given the respect Fonda commands, the impact of her work in the film and her propensity to own podiums and red carpets, this isn't likely to be the last honor she accepts on the awards circuit this season.
Actresses Elizabeth Banks (a big "9 to 5" fan) and Diane Lane presented tributes to Fonda throughout the evening, the former being applauded by both Fonda and SBIFF Executive Director Roger Durling for helming a box office hit in "Pitch Perfect 2" while also delivering great, distinctive performances in films like "Love & Mercy" and "The Hunger Games: Mockingjay – Part 2" this year.
Quoting Edith Wharton and reading from meticulously assembled note cards, Lane pondered what it is about Fonda's appeal on screen that penetrates so deeply. "You're just elevated to a higher form of comprehension [when you watch her work]," the "Unfaithful" and "Man of Steel" star said.
Since 2006, the Kirk Douglas Award for Excellence in Film has been awarded to a lifelong contributor to cinema through their work in front of the camera, behind, or both. Douglas could not make the ceremony Saturday night, but he did send in pre-taped congratulations while showing off an impressive gray ponytail, still bursting with energy at nearly 99 years old.
The 31st annual Santa Barbara International Film Festival runs Feb. 3 – 13, 2016.
Freida "Fritzi" Demsky Becker, sister of actor Kirk Douglas, dies
Created on Tuesday, September 29th, 2015
Written by Albany Times Union
--September 23, 2015
Photo: Fritzi Becker, left, with twin sister Ida Sahr in 2008.
ALBANY - Freida "Fritzi" Demsky Becker, the sister of actor Kirk Douglas, died on Sunday, according to an obituary published in the Times Union.
Becker, like her brother, was born in Amsterdam. She spent most of her life in Albany.
According to her obituary, she retired as the manager of the former David's Clothing Stores which had locations in Albany and Niskayuna.
She was predeceased by her husband, Harold "Hunky" Becker, who died in 1992.
In addition to her brother and his wife, Anne, Becker is survived by her sister, Ida Sahr of Schenectady. The obituary said she was also the loving mother of Gary Becker and his partner, Jack Cadalso Jr. of Albany, David Becker and his wife, Judy Coyne- Becker, also of Albany, and Barbara Becker of Chicago.
Service were held Tuesday at the Levine Memorial Chapel in Albany.
A memorial contribution can be made in her memory to the Harold J. Becker Fund at Temple Israel in Albany, 600 New Scotland Ave., Albany, NY 12208.