Back to Site
Welcome to the Posts section of the official Kirk Douglas website. Its purpose is to let Kirk share his thoughts and activities with you, and to enable you to share your thoughts with him.
Below you'll find links to the most recent "Reflections" and "Activities" posts.

Clicking the "Reflections" button to the left, you'll be taken to a page where Kirk, a best-selling writer as well as a movie star, has posted his most recent thoughts and musings.
Clicking the "Activities" button, you'll be taken to a page where you can learn about current and past goings-on in which Kirk is involved.
Clicking the "Kirk Douglas Theatre" button, you'll get the latest news about productions at the theatre, named to honor Kirk Douglas and established as the newest and most intimate of the Center Theatre Group's spaces, which include the Ahmanson and Mark Taper Theatres at the Los Angeles Music Center.
By clicking "Fan Mail," you'll have the opportunity to share your thoughts with Kirk.
Kirk's most recent book Life Could Be Verse was published December 2, 2014. This link will enable you to get a copy, and have part of the proceeds go to the work of The Douglas Foundation.
TRUMBO: the film
Created on Wednesday, October 7th, 2015
Written by kirkdouglas.com
--October 17, 2015
Kirk Douglas recently had the pleasure of being invited to a private screening of the film TRUMBO, starring Bryan Cranston and directed by Jay Roach, two very talented filmmakers. He thanks the film's producers and director for arranging this.
The film appeared at this year's Toronto Film Festival and is slated to open in theatres on November 6. Kirk thinks the film will be the hit it deserves to be. He found it very entertaining, and has always felt the most important thing filmmakers can do is to entertain.
"Kirk Douglas" is a character in the film, well portrayed by Dean O'Gorman. This is because Kirk not only hired the then-blacklisted screenwriter to write the script for his film SPARTACUS, released in 1960, but insisted that he be given screen credit under his own name. This was a major step in breaking the Hollywood blacklist that had existed since 1946.
Kirk's intention at the time, however, was not to "break the blacklist." He and Dalton Trumbo were friends and worked together not only on SPARTACUS, but on Kirk's favorite among the films he starred in, LONELY ARE THE BRAVE. A number of people were more than willing to take SPARTACUS screenwriting credit in place of the blacklisted Trumbo. Kirk turned them all down and, primarily out of friendship and loyalty, insisted credit be given where it was due.
It is in hindsight that this came to be viewed as the defining moment in breaking the blacklist, and, in 1991, the Writers Guild gave Kirk its Robert Meltzer Award for his act of bravery. Moreover, the film was based on the novel of the same name by the blacklisted Howard Fast, who was given appropriate screen credit as well.
Since that time, some controversy has arisen as to "who really broke the blacklist." The other major "contender" is Otto Preminger, whose film EXODUS, with screenwriting credit also given to Trumbo under his real name, was released a few months after SPARTACUS,.
Kirk's feeling is that no single person was responsible for "breaking the blacklist," although he played an important role of which he is extremely proud. Although some have charged Kirk with immodesty, neither was modesty a virtue for which Mr. Preminger, with whom Kirk later worked on the 1965 film IN HARM'S WAY, was particularly noted.
In the meantime, Kirk, who turns 99 in December, finds himself the only major player in this drama still left on stage. He feels the controversy has arisen in retrospect and that sorting through the issues is a matter for film historians. In the meantime, he is most grateful to Jay Roach and Bryan Cranston, who were three and four years old respectively when SPARTACUS was first released, for making TRUMBO, a wonderful film that deals with the controversy even-handedly.
Jane Fonda Ponders Art's Impact on Youth at Santa Barbara Fete
Created on Sunday, October 4th, 2015
Written by Kristopher Tapley
--Variety October 3, 2015

GOLETA, Calif. — Two-time Oscar winning actress Jane Fonda kept the focus on social concerns in accepting a career achievement honor presented by the Santa Barbara International Film Festival Saturday night.
The 10th annual Kirk Douglas Award for Excellence in Film in hand, Fonda took a moment to recognize the programs that benefit from the annual fundraising dinner (which has honored luminaries such as Jessica Lange, Forest Whitaker, Robert De Niro, Michael Douglas and Harrison Ford in recent years). She recalled formerly running a local performing arts camp herself for underprivileged children. It was there she said she discovered the impact art can have on youth, when one of the children there confessed she had never met people who think about the future. "When you're poor or not loved, you see no future," Fonda recalled understanding.
She also added with a twist that the camp was powered by alternative energies. "This was the end of the 70s," she boasted. "So don't let anyone tell you we don't have the technology."
Programs supported by the Gala include Mike's Field Trip to the Movies, the 10-10-10 Mentorship program and competitions, the Film Studios Program, Apple Box Family Films and a new Film Camp initiative to be launched this summer.
Fonda admitted to having some difficulty watching her career fly by in a series of clip packages. "I'm 78 and I still feel like a student," she said. "[I see this and think,] 'I can do it better.'"
Nevertheless, it's an impressive portfolio, one that builds to an explosive if fleeting performance in Paolo Sorrentino's "Youth." Given the respect Fonda commands, the impact of her work in the film and her propensity to own podiums and red carpets, this isn't likely to be the last honor she accepts on the awards circuit this season.
Actresses Elizabeth Banks (a big "9 to 5" fan) and Diane Lane presented tributes to Fonda throughout the evening, the former being applauded by both Fonda and SBIFF Executive Director Roger Durling for helming a box office hit in "Pitch Perfect 2" while also delivering great, distinctive performances in films like "Love & Mercy" and "The Hunger Games: Mockingjay – Part 2" this year.
Quoting Edith Wharton and reading from meticulously assembled note cards, Lane pondered what it is about Fonda's appeal on screen that penetrates so deeply. "You're just elevated to a higher form of comprehension [when you watch her work]," the "Unfaithful" and "Man of Steel" star said.
Since 2006, the Kirk Douglas Award for Excellence in Film has been awarded to a lifelong contributor to cinema through their work in front of the camera, behind, or both. Douglas could not make the ceremony Saturday night, but he did send in pre-taped congratulations while showing off an impressive gray ponytail, still bursting with energy at nearly 99 years old.
The 31st annual Santa Barbara International Film Festival runs Feb. 3 – 13, 2016.
Freida "Fritzi" Demsky Becker, sister of actor Kirk Douglas, dies
Created on Tuesday, September 29th, 2015
Written by Albany Times Union
--September 23, 2015
Photo: Fritzi Becker, left, with twin sister Ida Sahr in 2008.
ALBANY - Freida "Fritzi" Demsky Becker, the sister of actor Kirk Douglas, died on Sunday, according to an obituary published in the Times Union.
Becker, like her brother, was born in Amsterdam. She spent most of her life in Albany.
According to her obituary, she retired as the manager of the former David's Clothing Stores which had locations in Albany and Niskayuna.
She was predeceased by her husband, Harold "Hunky" Becker, who died in 1992.
In addition to her brother and his wife, Anne, Becker is survived by her sister, Ida Sahr of Schenectady. The obituary said she was also the loving mother of Gary Becker and his partner, Jack Cadalso Jr. of Albany, David Becker and his wife, Judy Coyne- Becker, also of Albany, and Barbara Becker of Chicago.
Service were held Tuesday at the Levine Memorial Chapel in Albany.
A memorial contribution can be made in her memory to the Harold J. Becker Fund at Temple Israel in Albany, 600 New Scotland Ave., Albany, NY 12208.
Who Broke the Blacklist? 'Trumbo' Splits the Difference in Battle for Credit
Created on Saturday, September 5th, 2015
Written by James Rainey
--Variety September 1, 2015
Kirk Douglas has insisted for more than a quarter century that he is the man who "broke the blacklist." By demanding Dalton Trumbo get credit in 1960 for writing "Spartacus," the screen icon asserts he struck a death blow to a system that forced creatives out of Hollywood, or left them to work in its shadows.
For almost as many years, Trumbo's family has charged that Douglas — while admirable for disagreeing with the anticommunist witch hunts of the 1940s and '50s — awarded himself too much credit for a victory that belongs to many people. They have advocated for more recognition of "Exodus" director Otto Preminger, who first called for an onscreen credit for the blacklisted writer.
"Trumbo's" Toronto Film Festival premiere seemed like an occasion that might renew the long-running feud. Instead, the biopic, starring Bryan Cranston and directed by Jay Roach, uses artful creative license to give Douglas his due, but not in excess — a compromise likely to defuse the kind of furor that has dogged recent historical pictures like "Selma" and "The Imitation Game" for taking too many liberties with history.
"Trumbo" goes to Toronto and a Nov. 6 opening with the blessing of both Trumbo's daughters and Douglas. "I think the movie gets it right," says daughter Mitzi. Douglas screened the film at his home last week and was "very, very pleased," says Fred Specktor, the actor's agent for three decades.
While peace may be at hand in the Douglas-Trumbo dispute, the historic re-creation, from Groundswell Prods. and ShivHans Pictures, and released by Bleecker Street, could reignite other seven decades-old political fires. The John Wayne character is portrayed as a simpleminded accomplice of ruthless right-wing columnist Hedda Hopper. And a brief newsreel glimpse of actor Ronald Reagan positions the actor as another tool of a government recklessly targeting its own citizens. It's hard to imagine that conservative commentators won't offer a rebuttal to the accounts, scripted by John McNamara.
The Douglas case proves that Cold War-era emotions sometimes remain very raw. The 98-year-old Douglas will go to his grave insisting he broke the blacklist. But a good body of evidence will say he played his part, but did not act first, or alone.
Some of the facts now seem clear: In 1947, Trumbo was held in contempt of Congress, blacklisted and later imprisoned when the self-avowed communist declined to identify other leftists to the House Un-American Activities Committee. For more than a decade, the writer continued to scratch out a living by churning out mostly B-movies under a series of pen names. (That period is a centerpiece of "Trumbo," and daughter Mitzi says Cranston has captured the screenwriter's essence to the point that "he just seems like my father to me.")
By the late 1950s, studios quietly had begun to hire Trumbo again. In January 1960, Preminger told the New York Times that he had hired the still-blacklisted writer to author the screen version of Leon Uris' novel "Exodus," and that he "naturally will get the credit on the screen that he amply deserves." The Times also revealed Trumbo had worked on the script for "Spartacus."
Douglas disliked Preminger, and depicted the director as jumping on the anti-blacklist bandwagon, according to "Dalton Trumbo: Blacklisted Hollywood Radical," by Larry Ceplair and Trumbo's son, Christopher Trumbo. Douglas reportedly told his wife that Preminger had "jumped into the front car and claimed to be the engineer" of the push to recognize blacklisted screenwriters.
Eight months after Preminger restored Trumbo to the public domain, Universal acknowledged him as the screenwriter of "Spartacus." The classic paean to human liberty was released in October 1960, the first film in more than a dozen years in which Trumbo received an onscreen credit. When "Exodus" debuted in December, true to Preminger's word, it also carried Trumbo's name.
In 1991, Trumbo's widow, Cleo, declined to attend a Writers Guild event honoring Douglas for his actions during the blacklist era, because the group declined to also give an award to Preminger. In 2002, Motion Picture Producers of America boss Jack Valenti chastised the Los Angeles Times for not giving Douglas enough credit as a blacklist nemesis. Cleo responded with a letter to the editor calling Preminger and Douglas both "men of principle and courage," but reiterating that it was the director who first publicly said he would give credit to her husband. Douglas did not waver. According to Ceplair's Trumbo biography, the actor wrote to Cleo Trumbo: "Your letter to the L.A. Times made me very sad … I'm very proud of the fact that I was the first one to break the blacklist." His lawyer makes the same assertion after seeing the new movie, and says Douglas enjoyed the way the story unfolds in the film, with his character played by actor Dean O'Gorman.
In his 2012 book, "I Am Spartacus!" Douglas further alienated the Trumbo clan by claiming that he, not Dalton Trumbo, had conceived the iconic "I am Spartacus!" scene. Ceplair, after reviewing draft's of Trumbo's script, says the screenwriter clearly conceived the notion of other slaves adopting their hero's name.
Mitzi Trumbo, a now-retired 69-year-old photographer, once decried the "inflated" role Douglas gave himself. But today, she and her sister, Niki, appear to have come to peace with the new screen version of Douglas. "It's hard to find a way to do justice to both Otto Preminger and to Kirk Douglas," says Mitzi Trumbo. "They both did very brave things, and my father was always grateful and so close to both of them."
Most importantly, she feels "Trumbo" will remind Americans about the danger of persecuting citizens for their political beliefs. "My father never expected this kind of attention," she adds. "He would be stunned, just stunned. And I think it's important this film is out there, and this story is being told."
Why Kirk and Anne Douglas Are Giving Away Their Fortune
Created on Thursday, August 20th, 2015
Written by Scott Feinberg
--Hollywood Reporter August 20, 2015
The iconic actor and his wife of 61 years have amassed an $80 million fortune, and now they are planning to give back to a range of causes, from Children's Hospital Los Angeles and the Anne Douglas Center for Women to their biggest passion, the Motion Picture & Television Fund
Kirk Douglas, 98, has come a long way from his Russian immigrant parents' house near the railroad tracks in Amsterdam, New York. Sitting in his Beverly Hills home with Anne, his wife of 61 years, the legendary actor recalls of his youth, "Sometimes we didn't have enough to eat, but very often there would be a knock at the door and it would be a hobo wanting food, and my mother always gave them something. My mother said to me, 'You must take care of other people.' That stayed with me.'"
Movie stars in Kirk's heyday didn't get paid the kind of money they do today, but Kirk still became a very wealthy man. In 1955, he formed a production company so that he could make movies outside of the studio system — a new concept back then — and Anne took charge of its bookkeeping. (The company's "big moneymakers," she recalls, were 1958's The Vikings and 1960's Spartacus.) "My wife is very smart," says Kirk. "Fifty years ago she set up a trust, and it's been growing ever since. So recently [in 2012] I said, 'How much money do we have in that?' And she said, '$80 million.' I said, 'What?!' Anne recalls Kirk's next remark, 'I want to give it away.' And that's exactly what's happening."

The Douglas' biggest contributions, though, have been to the Motion Picture & Television Fund. In the early 1990s, they raised $2 million to build Harry's Haven (named after Kirk's father), a specialized unit for people suffering from Alzheimer's and related forms of dementia, on the Woodland Hills campus. In 2012, they donated an additional $20 million to the MPTF. Then, a year ago, after learning that Harry's Haven was becoming overcrowded, they pledged an additional $15 million for an expansion. Ground will be broken for the Kirk Douglas Care Pavilion, a new two-floor building attached to Harry's Haven, around the time of Kirk's 99th birthday in December. Anne laughs, "When [MPTF Foundation chairman] Jeffrey Katzenberg comes to say 'Hello,' you say, 'How much?'"
Jane Fonda Wins Santa Barbara Film Festival's Kirk Douglas Award
Created on Wednesday, August 12th, 2015
Written by Dave McNary
--Variety August 11, 2015
The Santa Barbara International Film Festival has selected Jane Fonda as the recipient of its 10th annual Kirk Douglas Award for Excellence in Film.
The award will be presented at a gala dinner at Bacara Resort and Spa on Oct. 3. The 31st Santa Barbara festival will open Feb. 3.
"Jane Fonda obviously has the right genes," Douglas said. "Her acting performances set a standard that's hard to follow."
Fonda won Academy Awards for "Klute" and "Coming Home." She has won three Golden Globes, an Emmy and was the 2014 recipient of the AFI Life Achievement Award.
Fonda will next be seen in Fox Searchlight's "Youth," which debuted at Cannes, and also stars Michael Caine, Harvey Keitel, Rachel Weisz and Paul Dano. Fonda also stars in Netflix's "Grace and Frankie," currently filming for its second season.
Past honorees of the Douglas award include Jessica Lange, Forest Whitaker, Robert De Niro, Michael Douglas, Harrison Ford, Quentin Tarantino, Ed Harris and John Travolta.
The Killing of Cecil Reopens a Shameful Memory
Created on Saturday, August 8th, 2015
Written by Kirk Douglas
--Huffington Post August 7, 2015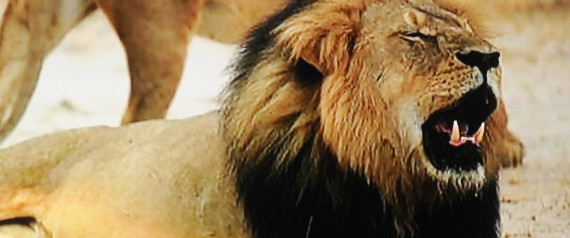 While I, too, mourn the killing of Cecil the Lion in Zimbabwe, it revives in me an uncomfortable memory. Some 50 years ago, I went on my first (and only) wild-game hunt -- the most stupid thing I've ever done. But, at the time, I was gung-ho, buying all the proper paraphernalia, checking guns and racing off into the wilds of Kenya.
Covering my macho derring-do, so I can never fully forget, was a photographer assigned to capture my "heroic" endeavors for a book called Great Hunts. His name was Robert Halmi.
I remember being drunk with power as I softly pulled the trigger of my high-powered rifle and watched a leopard, a gazelle, an oryx, a zebra and other defenseless animals fall to the ground.
The trophies I brought back were proudly mounted on the wall of my projection room. And then one day I looked up and all my trophies seemed to be staring at me. I realized how obscene it was to kill them. I quickly got rid of all the "trophies" and tried to forget the sin that I had committed.
This summer we learned about Dr. Walter Palmer, an American hunter who caused universal outrage for his actions in Zimbabwe. I feel sorry for Dr. Palmer. He is being hunted much like he stalked his prey. His actions were inexcusable and I believe he is certainly paying for them. But he is not alone, many people hunt and kill wild animals for sport. That must be stopped.