Back to Site
Welcome to the Posts section of the official Kirk Douglas website. Its purpose is to let Kirk share his thoughts and activities with you, and to enable you to share your thoughts with him.
Below you'll find links to the most recent posts, regardless of category.
If you click on the "Reflections" button to the left, you'll be taken to a page where Kirk, a best-selling writer as well as a movie star, has posted his most recent thoughts and musings.
If you click the "Activities" button, you'll be taken to a page where you can learn about current and past goings-on in which Kirk is involved.
By clicking "Fan Mail," you'll have the opportunity to share your thoughts with Kirk.
News flash! Kirk's most recent book I Am Spartacus! was published June 12, 2012. This link will enable you to get a copy, and have part of the proceeds go to the work of The Douglas Foundation.
If you would like to purchase the Kindle e-Book version of I Am Spartacus, click below.
Criterion to Release 'Ace in the Hole' DVD May 6
Created on Friday, February 21st, 2014
Written by High-Def Digest
--February 21, 2014
Billy Wilder's 'Ace in the Hole' is one of the most scathing indictments of American culture ever produced by a Hollywood filmmaker. Kirk Douglas gives the fiercest performance of his career as Chuck Tatum, an amoral newspaper reporter who washes up in dead-end Albuquerque, happens upon the scoop of a lifetime, and will do anything to keep getting the lurid headlines. Wilder's follow-up to 'Sunset Boulevard' is an even darker vision, a no-holds-barred exposé of the American media's appetite for sensation that has gotten only more relevant with time.
The Blu-ray/DVD combo pack will feature 1080p video, an uncompressed mono soundtrack, and supplements will include: Audio commentary by film scholar Neil Sinyard; Portrait of a "60% Perfect Man": Billy Wilder, a 1980 documentary featuring interviews with Wilder by film critic Michel Ciment; Interview with actor Kirk Douglas from 1984; Excerpts from a 1986 appearance by Wilder at the American Film Institute; Excerpts from an audio interview with Wilder's coscreenwriter Walter Newman; Video afterword by filmmaker Spike Lee; Stills gallery; Trailer; and Essays by critic Molly Haskell and filmmaker Guy Maddin.
50 SHADES! THE MUSICAL Extends at the Kirk Douglas Through March 30
Created on Friday, February 21st, 2014
Written by broadwayworld.com
--February 18, 2014
With sold out audiences in Chicago and New York screaming for more, and a hit run at the Edinburgh Fringe Festival with a 4-star review, 50 SHADES! THE MUSICAL - THE ORIGINAL PARODY is extending through March 30 only in Los Angeles at the Kirk Douglas Theatre. Performances begin February 25 (press opening February 26).
The Fifty Shades of Grey trilogy has shattered sales records around the globe with more than 32 million copies sold in the United States alone and a 2015 Universal Pictures feature film release is sure to be a cinematic blockbuster. A sexy, hilarious romp, 50 SHADES! THE MUSICAL is a laugh out loud night of fun that audiences won't want to miss!

50 SHADES! THE MUSICAL opens with a ladies book club deciding to read Fifty Shades of Grey. Through their interpretation of the novel, the audience is led on a hilarious roller coaster ride of this unlikely bestseller. The show is full of dance numbers, 11 original songs and a live band backing the performance. Original songs include "They Get Nasty", "I Don't Make Love", and "There's a Hole Inside of Me".

Like the book series, 50 SHADES! THE MUSICAL is surely not for those under the age of 18, but does not cross boundaries that would make general audiences squirm.

50 SHADES! THE MUSICAL is produced by Marshall Cordell, Albert Samuels and Emily Dorezas, and will premiere at Kirk Douglas Theatre February 25 to March 16, 2014. Tickets start at $30 and are available at www.50ShadesMusical.com or by phone by calling (213) 972-4488. Red Room VIP Experience available including cast meet and greet at select performances.
Henson High Jinks: Furry Puppets Making Saucy Talk
Created on Saturday, February 15th, 2014
Written by Alysia Gray Painter
--nbclosangles.com February 12, 2014
The only-for-grown-ups loosey-goosey stage show is back in town.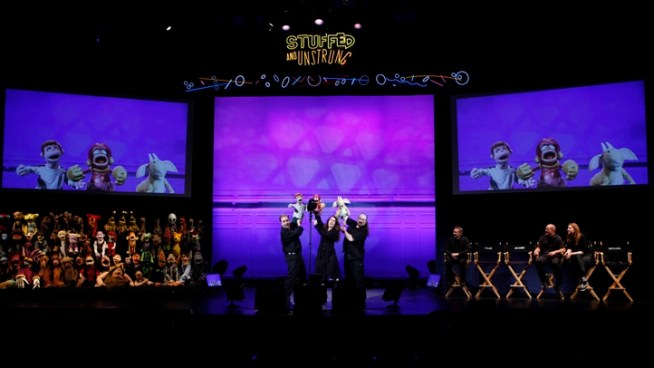 Why puppets and people -- as in grown-up people long past childhood -- aren't a natural and expected daily pairing, we can't be sure.
If only we all had a puppet on our hand to lend cheeky commentary when we're stressed in the bank line or in a meeting. So much easier, right? Stress-relieving in the sassiest sense.
Henson Alternative may lead the charge for this society-enhancing cause -- a puppet for everyone -- with its now long-running and much loved-upon stage show, "Puppet Up! -- Uncensored." It's a show for adults, and only adults, because the furry objects on the puppeteers' hands? Yeah, they're going there, wherever there is for the moment.
Let's just say if you've never blushed at a puppet delivering a particularly randy joke, that we'll almost certainly change while watching the Henson-style high jinks.
High jinks that are returning to Southern California for a trio of nights: Thursday, Feb. 20 through Saturday, Feb. 22. The spots? The Kirk Douglas in Culver City. The price? Thirty five bucks. The scene? Strictly an adult audience. We mean this. Seriously.
The show, by the by, is not pre-planned. Improvisation is key, and the half dozen puppeteers turn an ear to audience suggestions. Once the audience warms up, oh, exactly 80 seconds into the show, the saucier suggestions and eyebrow-raising ideas tend to fly, and the puppeteers go with it.
And how.
Nope, you don't need to fan your fingers at your face and say "well, my vapors, I do declare!" The Jim Henson Company has created many, many classics of childhood over the years, and thank goodness. But a sunny subversiveness has long been at Henson's alt-embracing heart -- uh, Animal and Dr. Teeth and David Bowie as the Goblin King, anyone? -- and that cheeky exploration has played out in many ways.
Including a blush-inducing puppet show made for those long past the playpen. Funny and fearless stuff, both, and if there isn't a joke about where a puppeteer must place his or her hand, to operate a puppet, well. It won't be a night at "Puppet Up! - Uncensored."
CTG to Present HOPE: PART II OF A MEXICAN TRILOGY Reading at Kirk Douglas Theatre, 3/1
Created on Saturday, February 15th, 2014
Written by broadwayworld.com
--February 10, 2014
Center Theatre Group welcomes the Latino Theater Company to the Kirk DouglasTheatre for a special reading of "Hope: Part II of A Mexican Trilogy" by Evelina Fernández. Developed with the Latino Theater Company and directed by José Luis Valenzuela, "Hope" will be performed as a part of DouglasPlus in the Douglas' rehearsal space, Upstairs@KDT, on Saturday, March 1 at 1 p.m.
"Hope: Part II of A Mexican Trilogy" is the second of three related plays produced by Latino Theater Company - "Faith: Part I" and "Charity: Part III" complete the trilogy. "Hope" originally premiered at the Los Angeles Theatre Center to critical acclaim in October 2011 (Fernández received a Best Play Ovation Award nomination). The DouglasPlus reading reflects a continuation of work by Fernández on the piece.
Set in a suburban Arizona community at the height of the Cuban missile crisis, a multi-generational Mexican American family circumvents the realities of a country facing political, social and cultural upheaval in 1960s America. Fernández's drama is infused with sounds of the era and challenges historic notions of what the American family looks like.
Q&A With Barry McGovern of Beckett's "I'll Go On" at the Kirk Douglas Theatre
Created on Tuesday, January 14th, 2014
Written by Robert Gagnier
--Huffington Post January 13, 2014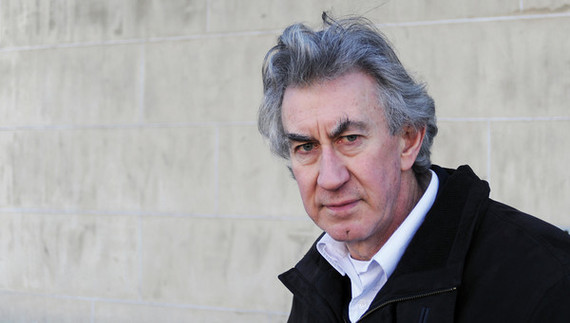 A celebrated interpreter of Beckett, Barry McGovern is known to Los Angeles audiences for his performance as Vladimir in the acclaimed 2012 production of "Waiting for Godot" at the Mark Taper Forum (LADCC Awards: Best Revival and Best Ensemble, Ovation Award Best Production and Best Ensemble).
"I'll Go On" is based on three of Beckett's novels -- Molloy, Malone Dies and The Unnamable. First performed at the Gate Theatre in Dublin in 1985, "I'll Go On" has toured worldwide to great critical acclaim. This is the first time McGovern will perform his tour-de-force, one-man show in Los Angeles.
Robert Gagnier: As a former member of the RTÉ Players and the Abbey Theatre Company and as an actor who has worked in film, television and theater, which medium have you come to prefer one the other?
Barry McGovern: Well, I don't like to work in any one medium all of the time. I love the variety, although I do suppose that theater is my first love.
RG: Can you name a few of the performers from the world of theater that have inspired you up to this point in your career?
BM: There are many people back at home who helped me as well as people you have seen on stage or on screen who have inspired me. The late Jack MacGowran, an Irish actor who worked with my father once doing insurance before becoming a full time actor, was a great influence on me. He did a one man show called "Beginning to End" (a Beckett piece) and was a friend of Beckett himself. That certainly inspired me and I saw that play a few times when I was young. There were also many people in the old Abbey Theatre who were so kind to me and there were so many who influenced me there as well. Looking at film, I can appreciate the great performers such as Spencer Tracy, Katherine Hepburn and people like that.
RG: At what point in your career were you first drawn to Mr. Beckett's work?
BM: I saw a television production of "Waiting for Godot" on BBC television (a black and white production back in the early '60s) and that really intrigued me, it really struck a chord. And so I remember buying some of his plays and going to see them when they were in town. Eventually, when in college, I became involved in a production of "End Game" as a student at the University College Dublin. I played the character Lucky in "Waiting for Godot" when I was in my early 20's, then "End Game" again. Eventually I played Vladimir in "Waiting for Godot" later on and then I played Estragon -- and so I had played those three roles up to that point.
Eventually, Michael Colgan took over the Gate Theatre back in 1983, and he asked me if I would be interested in doing a one man show on Beckett's work. I was reluctant to do it at first, but he was a very persuasive man and so this show, "I'll Go On" came out of that, and is based on three novels: Molloy, Malone Dies, and The Unnamable, which were written around the time of "Waiting for Godot" in the late 1940's.
RG: Are there any particular challenges as an actor in a one man show that you have to endure that members of a cast or ensemble effort don't necessarily have to concern themselves with?
BM: It's just more terrifying! When you have a lot of people around and you're in a play, there is a kind of camaraderie in the theater business. People are generally very generous and help one another. When you are doing a solo show, the experience, by contrast is a very lonely one. You are out there all on your own and if anything goes wrong it's just you, and you have to sort it out yourself. So you have this mountain to climb every time you go out there it -- but there is also a great sense of achievement every time you do it.
I remember the fist time I did the play and I recall saying to myself, "If I can get through this now, I shouldn't fear anything."
But of course you do... those are your normal human fears and anxieties that anyone has in any walk of life. But doing the show solo is a great challenge and keeps me going. I hope it keeps me young and helps to keep my brain and body active. But I only do this show every now and then. Most of the work that I do is with other actors in the other mediums, but it is a great challenge and joy to perform this piece. It's a wonderful work with wonderful writing -- Beckett's a unique writer, and not everyone's cup of tea, to be sure. There are those who love him, and those who hate him. I look forward to bringing his work to those who have misconceptions about him -- it's a great thrill.
RG: What's next up for Barry McGovern in the world of entertainment?
BM: I have no idea! That is the life of the freelance actor. There is the possibility of doing this at a festival later in the year. That is looking likely. I am also working on a few projects of my own at home which may or may not come to fruition. But in Ireland your offered work very soon, before it begins. Things come up very quickly, or don't, as the case may be.
RG: Beckett did a good deal of his writing in French. Have any of the roles you have played so far been in that language?
BM: No, they haven't. I have some French, but I'm not sure I'd be able to put it toward the characters. I once toyed with the idea that I would be able to do "End Game" in French, but I knew that I wouldn't be able to do "I'll Go On" in French -- that goes without saying -- or Godot. They're too tricky for me. I have, however, read a lot of his works in French. But that was Beckett -- a most unique type of writer able to traverse both the French and English literary worlds. There were very few other writers I could think of who were able to do what Beckett did in terms of writing in two different languages. Vladimir Nabokov was one and Joseph Conrad was yet another.
RG: Were there any American writers whose works inspired you?
BM: Well yes, Rod Serling with the Twilight Zone. I certainly remember watching those as a kid. Those made a big impression on me. I have done plays by Tennessee Williams and David Mamet, who wrote Glengarry Glen Ross. I did that just a short time ago and that was a wonderful experience. I had the pleasure of working with John Patrick Shanley in a movie once years ago. There are so many... Eugene Gladstone O'Neill, whose "Long Day's Journey into Night" remains one of my favorite plays. I would love to do that play some day! But there were so many great playwrights -- too many to name.
Pope Francis Is a Good Man for All Religions
Created on Saturday, January 11th, 2014
Written by Kirk Douglas
--Huffington Post January 9, 2014
I am a Jew who loves the Pope. I have always said, "don't be too religious." However, Pope Francis is a good man for all religions. He is a humble person who identifies with the poor.
Those qualities are how the Pope has conducted his papacy so far. During his New Year's Day message he encouraged us all to "search for peace" and "build a society that is truly more just and united." He reprimanded a German bishop for his lavish spending. And, when asked about his views on same-sex marriage he responded, "Who am I to judge?" He has made hard decisions while also being kind and loving to those in need.
He is a man who wants us to understand each other no matter what our differences may be and to do our best to help one another. And that is the core of what every religion should be.
I'LL GO ON, Starring Barry McGovern, to Open 1/12 at CTG Kirk Douglas Theatre
Created on Thursday, January 9th, 2014
Written by broadwayworld.com
--January 8, 2014
January 12, 2014, at 6:30 p.m. at the Center Theatre Group/Kirk DouglasTheatre. Previews of the Gate Theatre production are January 10 and 11. A celebrated interpreter of Beckett, Barry McGovern is known to Los Angeles audiences for his performance as Vladimir in the acclaimed 2012 production of "Waiting for Godot" at the Mark Taper Forum (LADCC Awards, Best Revival and Best Ensemble; Ovation Award Best Production and Best Ensemble).
"I'll Go On," which is based on three of Beckett's novels - "Molloy," "Malone Dies" and "The Unnamable," is directed by Colm Ó Briain. Texts from the works have been selected by Gerry Dukes and McGovern. First performed at the Gate Theatre in Dublin in 1985, "I'll Go On" has toured worldwide to great critical acclaim. This is the first time McGovern will perform his tour-de-force, one-man show in Los Angeles.
Charles Isherwood of The New York Times said, "Certainly language turns plenty of somersaults in the skilled interpretations by Mr. McGovern ... [McGovern] embodies these variously abject, embittered and infuriated story spinners with an intensity that both tickles and stings." "... An outright triumph ... arrestingly funny," remarked William A. Henry III of Time magazine. Adam Perlman of Backstage said, "... McGovern - technically flawless, emotionally dazzling - is the consummate Beckett clown. His entire performance is an instinctive shriek of pain that, on second thought, he converts to a belly laugh."
Barry McGovern, a leading figure in Irish theatre for many years, has performed at the Gate Theatre in Dublin in "Waiting for Godot," "Endgame," "Happy Days" and two one-man Beckett shows, "I'll Go On" and "Watt," which have played worldwide, most recently at the Perth and Edinburgh festivals. He has appeared in a number of films including "Joe Versus the Volcano," "The General" and "Far and Away." Recent theatre work includes "An Enemy of the People" and "Glengarry Glen Ross." On TV he has appeared in "Gift of the Magi," "The Tudors" and "Game of Thrones."
The Gate Theatre has been, artistically and architecturally, a landmark for over 250 years. Established as a theatre company in 1928, the Gate offered Dublin audiences an introduction to the world of European and American theatre as well as classics from the modern and Irish repertoire. It was with the Gate that Orson Welles, James Mason and Michael Gambon began their prodigious acting careers. Michael Colgan has been the Director of the Gate Theatre for 30 years and in that time he has produced a great many award-winning productions and festivals. Notably, these included five Pinter festivals and six Beckett festivals. Many of the productions have been seen throughout the world from Beijing to New York, Sydney to Toronto and London to Melbourne. Most recently, the Gate produced B.P.M. - a Beckett Pinter Mamet Festival, which comprised a season of works dedicated to the writings of these great writers.
Tickets for "I'll Go On" are available by calling (213) 628-2772, online at www.CenterTheatreGroup.org, in person at the Center Theatre Group box office at the Ahmanson Theatre, or at the Kirk Douglas Theatre box office two hours prior to performances. Tickets range from $20 - $55 (ticket prices are subject to change). The Kirk Douglas Theatre is located at 9820 Washington Blvd., Culver City, CA 90232.
Javier Bardem in talks to portray Hernan Cortes
Created on Thursday, January 9th, 2014
Written by starpulse.com
--January 7, 2014
Note: Steven Spielberg recently optioned the screenplay Montezuma, written by Dalton Trumbo, from Kirk Douglas, who owns the rights. The script was originally written for Kirk.
Actor Javier Bardem is in talks to portray Spanish conquistador Hernan Cortes on the big screen in a film project that has been shelved for over 45 years.

Former blacklisted screenwriter Dalton Trumbo came up with the script for the movie in the 1960s, and reportedly wanted Kirk Douglas to lead the cast.

Schindler's List scribe Steve Zaillian has been hired to revamp Trumbo's work and produce the film, according to Deadline.com.

Movie bosses are hoping to bring Steven Spielberg onboard to direct the movie, which will centre on the battle between Cortes and Aztec emperor Montezuma.
Hollywood honours Forest Whitaker with the Kirk Douglas Award for Excellence at black-tie affair in Santa Barbara
Created on Tuesday, January 7th, 2014
Written by Daily Mail
--The Daily Mail, 6 January 2014
Actors, Hollywood big-shots and industry bigwigs took time out from their busy awards season calendar to honour one of their own, as Forest Whitaker received the Kirk Douglas Award for Excellence in Filmmaking.
On Sunday, well-wishers gathered at the Bacara Resort & Spa in Santa Barbara, California, for a black-tie dinner to celebrate the Oscar winner, who was feted for his life's work, both in front of and behind the camera, as well as his humanitarian efforts.
'Forest Whitaker is an exceptional man and actor. His commitment to human causes, his passion for what is right, and his dedication to his craft are inspirational and at my age, inspiration is rare,' said Kirk Douglas of the 52-year-old.
Whitaker's body of work includes 1982's Fast Times At Ridgemont High, 1986's The Color of Money, 1987's Good Morning, Vietnam, 1992's The Crying Game, 2002's Panic Room and 2006's The Last King of Scotland, for which he won the Academy Award.

His recent turn in 2013's The Butler has been garnering attention on the awards circuit, as the actor nabbed a SAG nomination for Best Actor for his turn as Cecil Gaines.

He attended the event with his wife Keisha Nash Whitaker. While the star wore an all-black suit with a glimmering lapels and a slight sheen, his wife was clad in an Asian-inspired gown for the glamorous event.

The ensemble featured an intricate black-line floral design on the bodice and full skirt of the dress. With cap sleeves and an empire cut, the unusual dress gave Mrs. Whitaker a unique look that captured the sophistication and class of the event.
Michael B. Jordan attended the star-studded event in support of the older actor. The 26-year-old up-and-comer, whose performance in Fruitvale Station turned heads this year, wore a traditional tuxedo to the gala.

Angela Bassett was also on hand to help honour her friend Whitaker. Wearing a black sequined cocktail dress with a plunging neckline and three-quarter sleeves, the Academy Award nominated actress cheered on her Black Nativity co-star as he accepted his prize.
This is the second major honour bestowed upon The Crying Game star in this awards season. In December, Whitaker received the Actor Tribute at the Gotham Independent Film Awards in New York.

Sponsored by Moet & Chandon, The Santa Barbara International Film Festival's Kirk Douglas Award is bestowed on filmmakers who have contributed to the art of cinema.

Past recipients include Robert DeNiro, son Michael Douglas, Harrison Ford, Quentin Tarantino and John Travolta.
Mystery guests give Second City's 'Twist Your Dickens!' an extra zing
Created on Wednesday, December 11th, 2013
Written by Deborah Vankin
--Los Angeles Times, December 11, 2013
Despite his expressive elasticity as half of Comedy Central's sketch show "Key & Peele," Keegan-Michael Key is not really an over-the-top Christmas guy. You won't find him hamming it up in an ugly sweater at a party, for example.
"Basically, if I don't have to put the lights up or do anything, I'm your man, I'm your man!" he jokes.
For the Second City's "A Christmas Carol: Twist Your Dickens!" at the Kirk Douglas Theatre, however, Key not only embraces his inner merry-maker but he also lets it rip in an upcoming one-night-only performance.
Co-created by Center Theatre Group, "Twist Your Dickens!" is a high-energy satirical take, in both sketch and improv, on the Dickens classic "A Christmas Carol."
What gives the production — written by Second City alums Peter Gwinn and Bobby Mort, who have also written for "The Colbert Report" — an extra kick is a rotating lineup of special guests. Each show features a different, high-profile mystery guest who appears as his or herself in a narrator-like capacity for one scene, not unlike a host on "Saturday Night Live."
This year's roster includes actor-director Casey Affleck, Emmy-winning actress Rhea Perlman, Fred Willard, Mindy Sterling and, of course, Key, a member of the Second City Mainstage. (There will be others.)
"The audience is going 'Whaaat? Is that who I think that is?!'" Key says. "So it adds a whole other element. It puts the audience on the edge of their seat a little bit. They never know what's coming next."
The "Christmas Carol" spoof retells the Dickens tale with a distinctly Second City twist. The Ghost of Christmas Past, for example, is an '80s-era pop culture nerd obsessed with Madonna and TV shows like "Who's the Boss?" The Ghost of Christmas Present appears traditional enough: He's got a long beard, green robe and a wreath of leaves in his hair — except he's badly hung over. The silent Ghost of Christmas Future, in his ominous hooded black robe, becomes increasingly frustrated by his inability to speak, resorting to a giant foam finger and tapping out Morse code.
Ebenezer Scrooge, played by Ron West, is a little, well, denser than the usual Scrooge as reimagined by Second City. His miserly nature and cruelty are even more pronounced as he interacts with sketch character versions of Taylor Swift and Kelly Clarkson, as well as anonymous Girl Scouts and nuns.
"Twist Your Dickens!" is also studded with eruptions of improv. At one point, a "heckler" in the audience jumps up and angrily complains about the show's anachronisms.
"It's a lot of fun and kind of surreal," says Key. "I put on a smoking jacket and am rushed onstage in this big chair with this enormous tome in my lap the size of a Volkswagen. All the 'Peanuts' characters come out and talk about God … Schroeder is born again and evangelizing all his friends.
"The majority of the actors are improvisers, so everyone's just going for it!" Key says.
Last year, many of the special guests were well-known L.A. personalities from the food and pop culture worlds.
"They came on as themselves introducing 'the lost original ending of Charlie Brown's Christmas special,'" says CTG associate artistic director Neel Keller. "And they each did it in their own style, they made it their own."
Chef Susan Feniger (Border Grill) threw candied popcorn into the audience as she talked; Richard Simmons got everyone up dancing; L.A. Times food critic Jonathan Gold crafted his address as if it were a restaurant review; Henry Rollins turned his stint into spoken-word poetry.
Striking a balance between traditional storytelling and spontaneous comedy was tricky, but it makes "Twist Your Dickens!" unique, Keller says. "It became this very fun thing to match these two styles together. You get the whole Dickens story but as filtered through comedians and 'The Simpsons' and 'South Park.'"
The Kirk Douglas lobby will be decorated for the holidays, and the bar will be serving cocktails such as Tiny Timtinis and Scroogedrivers.
Don't worry, Keller says "what happens at Twisted Dickens, stays at Twisted Dickens!"
The Second City's 'A Christmas Carol: Twist Your Dickens!'
Where: Kirk Douglas Theatre, 9820 Washington Blvd., Culver City
When: 8 p.m. Tuesdays, Wednesdays and Fridays, 7 and 10 p.m. Thursdays, 5 and 9 p.m. Saturdays, 3 and 7 p.m. Sundays. (Call for exceptions) Ends Dec. 29.
Tickets: $20-$65
Contact: (213) 628-2772 or http://www.centertheatregroup.org